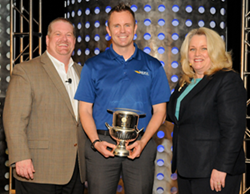 Sandy, Utah (PRWEB) April 14, 2014
Telarus, Inc., distributor of commercial data, IP, voice, and cloud service and patent holder of real-time carrier quotes, today announced that it was named a Platinum Partner by ACC Business, a division of AT&T, for 2013. Platinum Cup Award recipients include the top 1 percent of all sales agents in the ACC Business channel program. The win marks the tenth consecutive year that Telarus has earned the prestigious designation.
"Telarus' strategic business growth, enhanced technology tools delivering pricing and availability of Ethernet services, combined with significant expansion of sales Agents and sales coaches throughout the U.S. lead us both through a record year of sales in 2013," said ACC Business National Sales Director Sandy Butler Buchanon. "We are extremely motivated to build on this momentum into 2014! Congratulations to the entire Telarus team on their win of the ACC Business Platinum Cup Award!"
The 2013 ACC Business Platinum Cup Award was presented to Patrick Oborn, co-founder of Telarus, Inc. by Sandy Butler Buchanon, national sales director for ACC Business at the at ACC Business Club Unlimited banquet in Las Vegas at the 2013 Channel Partners Conference & Expo.
"Telarus was privileged to be among the first recipients of the ACC Business Platinum Cup when they started them back in 2004," commented Adam Edwards, President of Telarus, Inc. "We are incredibly pleased to win this award for the tenth consecutive year. ACC Business, one of our first suppliers, continues to go the extra mile for our partners and we expect to have another solid year with them."
About ACC Business
ACC Business is a specialized brand from AT&T that offers a suite of essential data and voice services backed by the superior quality of the AT&T Global Network, one of the most highly acclaimed networks in the world. ACC Business products include Managed Internet Service, Frame Relay, Private Line, Local and Long Distance services. ACC Business products are offered exclusively through its authorized agents. For more information on ACC Business' channel program please visit http://www.telarus.com/carrier-information/acc-business.html.
About Telarus
Telarus, Inc., a value added distributor that holds contracts with the world's leading commercial telecommunication carriers, makes it easier and more profitable for solution providers, VARs, and MSPs to sell and source voice and data WAN solutions. Our patented GeoQuote platform combines real-time carrier pricing with advanced research features and branded proposals. Telarus' experienced Sales staff is strategically focused on enterprise WAN and high-capacity bandwidth solutions, making it easier to find the best offer, every time. For its part, Telarus has been named the top Master Agent by the members of the Telecom Association in each of the past three years, the first and only company in the carrier channel to accomplish this feat. Whether you are a top producer or a voice-and-data expert just starting out on your own, there is a place for you in the Telarus community. For more information on the Telarus partner program, please visit http://www.telarus.com or call the new partner hotline at 877-346-3232.