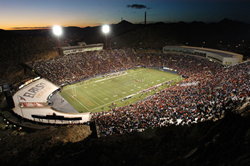 Northridge, CA (PRWEB) May 06, 2014
Contemporary Services Corporation (CSC), the world leader in crowd management and event security, is pleased to announce its contract renewal with The University of Texas at El Paso (UTEP), a client since 2005. CSC will provide ticket taking, ushering, parking services, and security at Sun Bowl Stadium, Don Haskins Center, and Magoffin Auditorium for football, basketball, and concerts, respectively. CSC El Paso provides services for UTEP under the direction of Jorge Vazquez, Executive Director of Special Events.
The Sun Bowl Stadium, home of the UTEP Miners Football team and The Sun Bowl, is a 51,500-seat stadium that also hosts events such as monster trucks, high school football, and concerts. The Don Haskins Center, a 12,000-seat arena, hosts UTEP Basketball, as well as professional boxing and concerts. The Magoffin Auditorium, UTEP's largest lecture hall with 1,152 theater seats, is home to many dance recitals, musicals, speakers, and concerts. CSC El Paso, led by Branch Manager Michelle Villescas, also provides event services for the historic Hyundai Sun Bowl game, which is widely known as one the oldest annual college bowl games in the country.
Contemporary Services Corporation (CSC) is the world leader in crowd management and event security for the entertainment and sporting event industries. Throughout its 47 years of experience, CSC has garnered a loyal and esteemed clientele base, including more than 100 stadiums and arenas, over 100 universities and colleges, more than 30 convention centers, and numerous clients within the professional ranks of MLB, MLS, NBA, NFL, NHL, and NASCAR. CSC has also provided services for the world's most prestigious special events, including Collegiate Bowl Games, NCAA Final Four Tournaments, PGA Tournaments, US Open Tennis, 30 Super Bowls, 9 Olympic Games, 4 Presidential Inaugurations, 2 Papal visits, and 2 FIFA World Cups. CSC operates more than 50 branch locations throughout the United States and Canada.