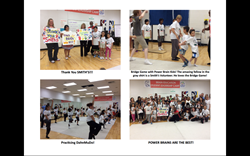 Their goal is to give back to the community and support local education by uplifting the health and spirit of students, one child at a time.
Las Vegas, NV (PRWEB) August 20, 2014
Stress affects everyone, including children. It can have a major impact on their learning and their learning environment. In the Las Vegas area, a unique group, including businesses, started a project to make a difference by helping several children develop vital stress management and leadership skills. Smith's Food and Drug, The Kroger Co., Clark County School District, local branches of Dahn Yoga & Health Centers, Inc. and Dahn Yoga Foundation have teamed up for the "Nevada First Project." Their goal is to give back to the community and support local education by uplifting the health and spirit of students, one child at a time.
Most often concerns about the state of education today are focused on ways to fix the system. Unfortunately, these fixes may not fully address the needs of the children. In various communities, people are beginning to realize ways that they can offer support and take small actions that make big differences. The Nevada First project is an informal alliance of people who care and who are actively seeking ways to make a difference in the lives of local children.
This project is aimed at supporting the community and schools by helping individual students boost their confidence, encourage their active participation as students and help them develop leadership skills. Some of these students might otherwise be considered disadvantaged, but they were given a the advantage of a new set of skills.
The inaugural event of the Nevada First Project was the PowerBrain Back to School Kids Camp. The camp will provide a nurturing and fun atmosphere that helps children overcome limitations and gives them skills for the discovery and development of their potential. The camp will feature a program led by PowerBrain Education, which teaches similar programs at 350 schools nationwide and provides training to teachers, administrators and parents on how to integrate the techniques into their daily lives. This holistic health program combines breathing techniques, relaxation techniques, stimulating exercises, and developmental activities. The exercises and activities are designed to address emotional imbalances caused by chronic stress or traumatic experiences, and helps improve social skills, and educational potential.
The PowerBrain Back to School Kid's Camp provides an amazing opportunity for kids to develop character and leadership skills, improve confidence, focus, memory, and imagination. The organizations involved in the Nevada First project hope that the Camp will encourage others to get involved, to support and create opportunities that help the children of Nevada.
The PowerBrain Back to School Kid's Camp was held at Spring Valley High School, Las Vegas NV, on August 16th and 17th, but this is only the beginning. According to Maurice Anderson, one of the project coordinators, "we intend to work with these kids all year round for school and welcome others to join us." For more information about how to support or get involved with the Nevada First Project, please contact Maurice Anderson at 702-432-0008.
About Dahn Yoga Foundation:
For more than 15 years, community-based Dahn Yoga classes have been made available free of charge or at substantially reduced rates in the US. Since 2006, these outreach classes have been organized under the Dahn Yoga Foundation, a 501(c)(3) tax-exempt charity, and are offered at various locations around the country, including public parks, senior centers, schools and community centers. In addition to yoga and meditation classes, Dahn Yoga Foundation supports community service projects, breathing new life into Dahn Yoga ideals by putting them into practice.