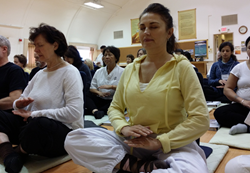 Through this experience, participants can really change themselves
Gilbert, AZ (PRWEB) March 20, 2014
Dahn Yoga & Health Centers, Inc., a national leader in health and wellness, offers several programs and classes teaching principles of holistic living. One key program is its Brain Management Training Workshop, featured in the March 2014 issue of the Dahn Yoga community newsletter.
The feature article, "Dahn Yoga Workshop Spotlight: Brain Management Training," offers an informative overview of the workshop objectives and results by participant, Monica Lugo. With insight into the changes attendees experience in their relationship with themselves and with others, this month's article illustrates how Brain Management Training (BMT)can be an effective way to gain ownership and mastery over one's brain.
From the article; "Through this experience, participants can really change themselves," says Jay Yoon, the main trainer of the workshop. "They also regain confidence and a sense of ownership of their brains, learn core principles for optimizing and changing their energy, and acquire tools for guiding others." For more information on the principles behind Dahn Yoga practice, see the Dahn Yoga Essentials DVD. Read more about this life-changing workshop in the monthly publication, Dahn Yoga Life. The newsletter offers a broad overview of topics of interest for Dahn Yoga practitioners and those interested in learning about the practice developed by Dahn Yoga Founder, Ilchi Lee.
About Dahn Yoga:
A national leader in health and wellness, Dahn Yoga & Health Centers, Inc. teaches a dynamic mind-body practice originating in Korea that combines stretching, flowing movement, deep breathing exercises and meditation in a simple and easy to learn format that focuses on the development of the body's core strength as the basis of physical, mental, and spiritual health. Dahn Yoga includes a unique emphasis on the brain and classes may include brain exercises that challenge and sharpen the mind and help practitioners develop greater awareness and sensitivity to the well-being of their bodies.