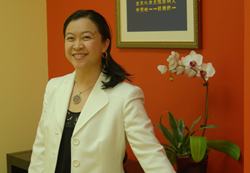 the story of Lovong's commitment to sharing what she has learned as she celebrates her ninth anniversary with the practice that she credits with reducing stress and improving her health along the way
Gilbert, AZ (PRWEB) March 19, 2014
The Dahn Yoga community newsletter, Dahn Yoga Life, in its March 2014 issue, spotlights Donna "Dahari" Lovong, a full time Dahn Yoga Center manager and instructor who divides her time between Dahn Yoga locations in Springfield, VA and Vienna, VA.
The article,"Day in the Life: Donna "Dahari" Lovong" tells the story of Lovong's commitment to sharing what she has learned as she celebrates her ninth anniversary with the practice that she credits with reducing stress and improving her health along the way.
Offering her story of the changes she sees brought about in herself and others as she teaches the key principles of Dahn Yoga exercise as developed by Dahn Yoga founder, Ilchi Lee, she also shares her own assessment of what drew her to the practice, "I was getting frustrated with some of my work as a health researcher; very long hours, stress in my shoulders, and I noticed that we were caring more for our patients than for each other as fellow coworkers and mentors."
About the results from her Dahn Yoga teaching she comments, "I have seen countless miracles and success stories from our students." Read Lovong's interview in the monthly publication, Dahn Yoga Life where you'll find a broad overview of topics of interest for Dahn Yoga practitioners and those interested in learning more about Dahn Yoga Essentials.
About Dahn Yoga:
A national leader in health and wellness, Dahn Yoga & Health Centers, Inc. offers classes in a dynamic mind-body practice originating in Korea that combines stretching, flowing movement, deep breathing exercises and meditation. The simple and easy to learn format of its classes focuses on the development of the body's core strength as the basis of holistic health. Dahn Yoga practice also includes a unique emphasis on the brain as the determiner of health and well-being and classes may include brain exercises that challenge and sharpen the mind.