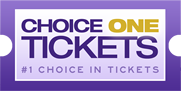 Masters golf tickets are NOT easy to come by. We pride ourselves in providing our customers easy access to tickets to very highly sought-after events.
Augusta, GA (PRWEB) June 04, 2013
The green jacket is golf's most sought after and coveted symbol of excellence. This emblem is earned by winning the Masters, which is the first of four majors held in the PGA every year. Experiencing this extraordinary tradition is a once in a lifetime opportunity and is widely considered a "must attend" for sporting fans of all ages. With tickets almost always selling out immediately, it is never too early to get your tickets to an experience you will remember forever.
"Masters golf tickets are not easy to come by," said Choice 1 Tickets spokesperson Brent Larsen. "We pride ourselves in providing our customers easy access to tickets to very highly sought-after events," Larsen said.
As former pro Bobby Jones once eloquently stated, "The name was born of a touch of immodesty" and many of his peers, as well as fans of the sport would agree. Another compelling component of this tournament is the momentum it bestows upon its winners who are usually propelled to the top of the golf rankings (if they aren't already occupying the #1 spot).
The Masters Tournament was established in 1934 by the Augusta National Golf Club and is held once every year. The great Jack Nicklaus owns the most tournament championships, compiling 6 victories throughout his illustrious career. Arnold Palmer and Tiger Woods are tied for second place with 4 victories each. The coveted green jacket was first introduced in 1949. There are several other traditional awards that have been implemented throughout the years including a gold medal and a silver championship trophy bearing the winner's name. The Master's course is comprised of four rounds of 18 holes each. To win, the victor must possess not only superior skill, but unwavering endurance as well.
"In addition to amazing tickets, we also offer different packages, practice round tickets and Masters tournament venue maps," Larsen said.
The winner of the 2013 Master's was Australian born Adam Scott in what was one of the most exciting in the tournaments history. On the final day, Scott sank a long birdie on the 18th hole and appeared to have the green jacket wrapped up. However, Angel Cabrera tied Scott's -9 and forced a sudden death playoff hole. Both players pared that first hole. On the second hole, Cabrera barely missed a putt by just inches which gave Scott an opportunity to sink a 12-foot putt en route to his first major. He was also the first Australian to put on the green jacket.
Choice 1 Tickets offers very competitive prices on 2014 Masters tickets. They specialize in tickets to any and all sports, concert and/or music events. To speak with a live representative, please call 315-559-6995 or visit them online at http://www.ChoiceOneTickets.com.