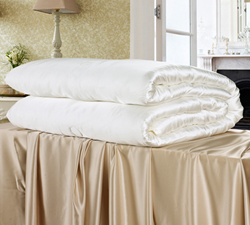 Our staff is certified and insured to ensure customers receive the most satisfactory silk products and the most professional service before or after sale.
Houston, TX (PRWEB) March 07, 2014
Spring Comes. Lilysilk, a leading supplier of silk bedding wares, has recently announced its Spring Sale, offering 10% off on its silk duvets for customers. According to the company's website, the promotion is valid until March 23, 2014.
Manufactured from 100% pure silk floss that is formed layer by layer, silk duvets from their company are featured with top quality, delicate craftsmanship, professional designs and gorgeous looks. Now, these spring duvets are available at discounted rates. For instance, one of their spring duvets (item code: SDC23), Twin Size Spring Silk Duvets With Silk Shell, was previously priced at $314, and now it is offered at a new discounted price of $283.
Mike Lee is a reliable and responsible gentleman who puts forward "Customers Are First" at their company. As the CEO of Lilysilk, Mike has said, "Our staff is certified and insured to ensure customers receive the most satisfactory silk products and the most professional service before or after sale. I am proud that all our duvets and comforters are streamlined into a system that checks and double checks quality, from sourcing to shipment."
Last week, a customer said, "I have purchased a number of bedding from Lilysilk and I am very pleased with the quality of the fabrics, as sometimes when you see things online they do not look as good in reality. But with Lilysilk they actually look much better. Just the other day I ordered a sheets set which when it arrived was so nice I decided to purchase the comforter. Excellent, cant put into words how pleased I am as it is the icing on the cake making my bedroom look very opulent. Thank you!"
Thanks to the customer support from the globe, Lilysilk has developed very fast in the past years. The company is devoted to designing and manufacturing high-end silk bedding wares for customers worldwide. More information about Lilysilk company and products can be accessed at: http://www.lilysilk.com/ or its Facebook page: https://www.facebook.com/LuxurySilk