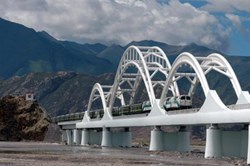 Tibet train travel is not a dream in 2014! Local agency has full solution with good price.
(PRWEB) January 02, 2014
Qinghai Tibet Railway travel has surged in popularity among travelers who visit Tibet; astounding views of snow capped mountains and the wide-open expanses of the Tibetan plateau make this one of the world's best train rides. Many travelers are looking to make the Qinghai Tibet Railway part of their trip in 2014; to help travelers start planning, TibetCtrip Travel Service-TCTS (http://www.tibetctrip.com) shares some facts and travel tips.

The most scenic part of the journey is between Golmud and Lhasa, making it unnecessary to take the train all the way to or from cities like Beijing, Xi'an, or Chengdu. This can turn a 2+ day train trip into a 1 day trip.
Train tickets go on sale only about three weeks in advance. Because of high passenger volume TCTS nor any other travel agency can absolutely guarantee in advance that tickets will be available for specific dates. To help ensure travel groups start their Tibet tour on time, it's best to fly into Lhasa and depart by train. Spring and autumn months typically have the lowest passenger levels.
The railway reaches an altitude of 5231 meters (17,162 feet) at Tanggu Pass so it's best to stay well hydrated. While most passengers have no problem adjusting to the altitude, oxygen is available. It's a good idea to bring any clothes or personal items needed to remain comfortable. Also stock up on snacks before boarding the train, the food available onboard might not be suitable for every traveler.
Riding the Qinghai Tibet Railway is an experience that most who visit Tibet will not soon forget. Travelers find the trip to be a wonderful opportunity to enjoy scenery they would otherwise miss out on! Its best to plan the trip for shoulder seasons and the low season: April-June and September-December; lower passenger volumes increase the chance of getting tickets for preferred dates. With the 2014 Tibet travel season starting soon now is the time to plan a train travel now.