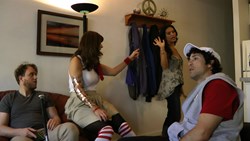 New York, NY (PRWEB) February 14, 2014
Watch this half-hour sit-com fly by with non-stop laughs. (Runtime 19:00)
Pilot Logline: High School P.E. teacher James Schrambo is stalked by an ex-girlfriend's ferocious fiancé, while sampling a new weight loss formula.
The pilot episode was shot in the hustling streets of the Big Apple, and lead character James Schrambo's apartment, right next to beautiful Central Park.
Whether it's love, work or family - Schrambo's in trouble time and time, again. It won't take long to realize that he is not your typical jock.
Watch, comment, share - spread the word on this new presentation pilot, brought to you by S.E.P! Media.
Enjoy and engage!