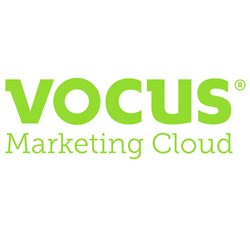 These webinars analyze the state of branding and the media industry in 2014, especially looking at how social media has evolved both. - Vocus Chief Marketing Officer You Mon Tsang.
Beltsville, MD (PRWEB) February 07, 2014
Vocus, Inc. (NASDAQ: VOCS), a leading provider of cloud-based marketing and public relations software, today announced two upcoming webinars in February. These instructional, hour-long sessions will show attendees how to make their brand stand out in a crowded marketplace and succeed in the evolving media landscape.
Feb. 12, 2:00 p.m. EST: Brand With a Visual Hammer
Feb. 27, 2:00 p.m. EST: State of the Media Report 2014
Marketers overwhelm prospects with blog posts, tweets and text-heavy emails every hour of the day. Creating brand associations with words has never been more difficult. Author and renowned branding strategist Laura Ries shows marketers how to wield a "visual hammer" that makes a brand stick in prospects' minds, like Nike's swoosh and Coca-Cola's signature bottle, during the Feb. 12 "Brand With a Visual Hammer" webinar.
In 2013, newspapers chose iPhone pics over professional photos, reporters embraced social media in a new way, paywalls boosted revenues, and Jeff Bezos bought The Washington Post; all forever changing the public relations industry. On Thursday, Feb. 26, Arment Dietrich Chief Executive Officer Gini Dietrich will instruct attendees how to drive results using the latest public relations best practices and how the findings from Vocus' "State of the Media 2014 Report" will impact the industry.
"Social media has led to the disruption of many industries, including branding and media relations, creating a difficult road for many marketing and public relations professionals to navigate," said Vocus Chief Marketing Officer You Mon Tsang. "These webinars analyze the state of branding and the media industry in 2014, especially looking at how social media has evolved both. Attendees will learn today's best practices and how to utilize these traditional tactics to today's modern era."
All Vocus webinars are free and open to the public. They start at 2:00 p.m. EST unless otherwise noted. Register for each webinar by clicking the links above. On-demand replays of these webinars are available to registered attendees. An archive of recent webinars is located at http://www.vocus.com/resources/webinars-events.
###
About Vocus
Vocus (NASDAQ: VOCS) provides leading cloud-based marketing and public relations software that enables companies to acquire and retain customers. The company offers products and services to help clients attract and engage prospects, capture and keep customers, and measure and improve marketing effectiveness. More than 16,000 annual subscription customers across a wide variety of industries use Vocus software. The company is headquartered in Beltsville, MD with offices in North America, Europe and Asia. For more information, visit http://www.vocus.com or call (800) 345-5572.
Forward-Looking Statement
This release contains "forward-looking" statements that are made pursuant to the Safe Harbor provision of the Private Securities Litigation Reform Act of 1995. These statements are predictive in nature, that depend upon or refer to future events or conditions or that include words such as "may," "will," "expects," "projects," "anticipates," "estimates," "believes," "intends," "plans," "should," "seeks," and similar expressions. This press release contains forward-looking statements relating to, among other things, Vocus' expectations and assumptions concerning future financial performance. Forward-looking statements involve known and unknown risks and uncertainties that may cause actual future results to differ materially from those projected or contemplated in the forward-looking statements. Forward-looking statements may be significantly impacted by certain risks and uncertainties described in Vocus' filings with the Securities and Exchange Commission.
The risks and uncertainties referred to above include, but are not limited to, risks associated with possible fluctuations in our operating results and rate of growth, our history of operating losses, risks associated with acquisitions, including our ability to successfully integrate acquired businesses, risks associated with our foreign operations, interruptions or delays in our service or our web hosting, our business model, breach of our security measures, the emerging market in which we operate, our relatively limited operating history, our ability to hire, retain, and motivate our employees and manage our growth, competition, our ability to continue to release and gain customer acceptance of new and improved versions of our service, successful customer deployment and utilization of our services, fluctuations in the number of shares outstanding, foreign currency exchange rates and interest rate.