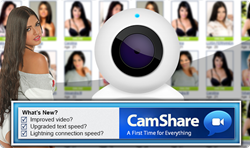 CamShare is an exciting new feature that enables men and women to communicate more expressively while searching for the ideal dating match this holiday season.
Medellin, Colombia (PRWEB) December 31, 2013
AmoLatina, the leading Latin American introduction and dating service, today announced the launch of the unique and innovative "CamShare" service as a New Year's present for its members; an exciting new feature that enables men and women to communicate more expressively while searching for the ideal dating match this holiday season, or letting them communicate with the beautiful woman they love from thousands of miles away; feeling appreciated and needed even when they can't hold them in a loving embrace.
CamShare allows members of AmoLatina to communicate with each other in a real-time, premium, high-definition video environment. This exclusive service increases user interaction by leaps and bounds by allowing members to see each other and share their facial expressions; fully exploring the chemistry they build together while sharing stories and getting to know each other. Over 80% of communication is based on body language and facial expressions, and CamShare really brings a conversation to life.
The new CamShare feature raises the standard, first pioneered by AnastasiaDate, for identity verification among dating services that specialize in Latin America. On any online dating site, there is always skepticism that the photos in a member's profile are old, photoshopped, or not real at all. The high resolution video offered through CamShare dispels any doubts or worries about what the lady in the profile really looks like, allowing members to communicate with the comfort of knowing that the beautiful woman they're talking to is very real.
To take advantage of CamShare, all a user has to do is search profiles on the AmoLatina website and find a member that they want to start a conversation with. Once the member clicks the CamShare icon on a lady's profile the face to face exchange begins, and the couple can enjoy each other's company while being able to see every expressive reaction to their words. The lady's profile will automatically be saved to the gentleman's contact list once the conversation is completed; ready for future CamShare sessions.
AmoLatina's CamShare service is a big leap forward for men seeking love and romance with Latina ladies. The interactivity and high resolution of the new service provides a vivid new path to finding and growing a relationship with a Latin American woman.
About AmoLatina
AmoLatina is part of the AnastasiaDate family of websites, founded in 1993, which sees over 150 million visitors per year and 2.5 million letters exchanged daily. AmoLatina services include email correspondence, phone translation, live text chat, flowers and presents delivery, as well as individual and group dating excursions to a variety of Latin American countries. AmoLatina's Romance Tours have become popular worldwide and are eagerly attended by stunning women from Latin America. AmoLatina is proud to have an international team working in Colombia, Costa Rica, Brazil, and the U.S. with over 300 full-time staff.