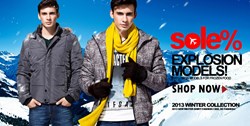 (PRWEB) January 05, 2014
Recently, Skmen.com, a popular clothing company that offers many kinds of men's clothes, has announced its new selection of women's coats, and launched a special offer on the new products. All these coats are now offered at discounted rates, up to 35% off.
Skmen.com is a professional clothing supplier that is devoted to developing cost-effective clothes with acceptable quality level. At the company's online store, low prices don't always mean terrible quality. All items offered by the company have the same quality as those at a retail shop.
The CEO of the company states that all these women's coats are made from grade-A materials. "We are glad to release our latest products. I feel really proud to introduce our new designs to worldwide customers. We have updated our website with the fresh items. The special offer is a great opportunity for customers to get quality coats at affordable prices. It's a wise choice to visit our website before making any decision," he says.
Skmen.com is a China-based company that has been specializing in the industry for a long time. In addition to the excellent clothes, the company offers an easy, relaxed and comfortable shopping experience for all clients. It is looking forward to a greater success in 2014.
About Skmen.com
Skmen.com, a China-based company founded in 2009, is one of the leading suppliers of men's and women's high quality clothes. It has more than 5000 customers from every part of the world, helping the people develop self-esteem, confidence and love of learning. For more detailed information about Skmen.com and its various kinds of clothes, readers can visit http://www.skmen.com/product-women-s-coats-003012001.aspx.