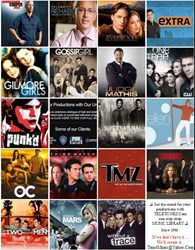 Makes The Cutting Edge Accessible - Huffington Post
Los Angeles, CA (PRWEB) December 31, 2013
A perfect team for the New Year 2014.Music in the New Year with Teletunez, Grammy Nominees, Gemini Winners and New Media Film Festival. From Brian Wayy, composer of over 150 TV shows and an accomplished producer, songwriter and remixer for hitmakers such as Paula Abdul, Stevie B., Rod Stewart, Wilson Phillips, Diana Ross, Ru Paul, Corbin Bleu and Doobie Brothers.
Teletunez offers an extensive catalog of high end production music, currently offering more than 100 CD titles. Teletunez Music can be heard daily on syndicated television programs and cable networks worldwide such as Dr. Drew, Anderson Cooper, Two and a Half Men, Ellen, Extra & TMZ.
From 2 Time Grammy Nominated Record Producer Barry Goldberg & 2 Time Gemini Winner in Music Ron Proulx as judges of the Music Video Category for [http://www.NewMediaFilmFestival.com and live musical performances to start the Annual New Media Film Festival in Los Angeles, this is a perfect way to start the New Year. Teletunez teams up with New Media Film Festival to discover new talent and advance already established musical careers.
Previous Music Video Winners have been
Linkin Park -" Waiting For The World To End in 3D"
Carlos Flores -" Sesko"
Nik Day -" Sadder"
D'Ambrosio Twins from Y & R - "Let Your Light Shine"
Even though musicians can submit year round, it is best to submit early as each submission is considered for Screening, Competition ($45,000.00 in Awards) & Distribution opportunities as well as early selection and press opportunities.
The 5th Annual New Media Film Festival will take place June 11 & 12th 2014 @ The Landmark on W. Pico Bl. in Los Angeles CA. An International Art Exhibit, New Media Marketing Table, Art On Wall Exhibit, Networking Lounge, Panels with Industry Leaders, Carpet Press Junket, Opening and Closing Night Programming, Awards Ceremony and Legend Award are all part of this year's celebration. VIP All Access Badges are available for those that want the full film festival experience.
IMDB of Susan Johnston, Founder/Director of New Media Film Festival, the bio gives a history of what led to developing the critically acclaimed festival.