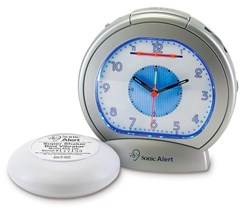 Troy, Michigan (PRWEB) January 01, 2014
The Sonic Alert SBA475ss sleek analog-style alarm clock is for those who prefer a bit more traditional clock and an easy-set dial. In addition to old school clock and wake up time, the SBA475ss also features a night-light that can illuminate your surroundings with two different brightness levels, or be switched off completely.
But don't let the unassuming design fool you, this clock has 113 decibels of extra-loud alarm with adjustable tone & volume control, and Sonic Alert's 12-volt Super Shaker™ bed vibrating unit. Bright red LEDs and a sharp blue backlight flash during alarm, so you're sure to wake up and get moving. The analog is dual power capable, and a one-year Sonic Alert® blast-proof warranty is standard.
For more information, contact Sonic Alert 1050 East Maple, Troy, MI 48083. Phone 248-577-5400, Fax 248-577-5433, or visit http://www.sonicalert.com. Sonic Alert provides products to improve the lives of the hard-to-wake, elderly and the hard of hearing. They are committed to continually producing new and innovative products that fill their customers' needs.