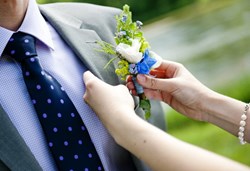 Our wedding was everything we had hoped for and more! We were completely satisfied with each and every one of the wedding professionals we worked with! -Maria Cadena
Salt Lake City, Utah (PRWEB) December 31, 2013
Salt Lake Wedding Reviews has been one of Utah's most valuable wedding planning resources since 2012. The site has been named Utah's fastest growing wedding planning website of 2013. They continue to offer Salt Lake City brides with reliable ratings and reviews for local wedding professionals.
Salt Lake Wedding Reviews was founded in 2012 by Eric Graham and Ryan Swayt. They built the site for the purpose of helping brides in the Salt Lake area to find quality wedding vendors. Salt Lake Wedding Reviews was structured so that brides would be able to take care of their wedding needs with the internet.
In 2013 Salt Lake Wedding Reviews grew from about 3,300 wedding professionals to over 4,000 wedding professionals in the Utah area listed. They also expanded from SaltLakeWeddingReviews.com to Twitter, Facebook, Google+, Stumble Upon, Pinterest, YouTube, and more.
They have also added the Salt Lake Wedding Blog to their site. It provides brides with tips and suggestions that will teach future brides about wedding planning.
"Brides used to search for wedding professionals in the Yellow Pages; they used to use catalogs and magazines. Today brides are using the internet more than ever and we are doing our best to cater to their needs. Brides turn first to Social Media and Google searches. Our focus is to help them find what they are looking for." –Ryan Swayt; Co Owner
SaltLakeWeddingReviews.com has publicly posted ratings and comments that have been left by real wedding brides. Future brides have the ability to read what past brides have said about each wedding professional in the Salt Lake area. This service is easy completely free for brides and extremely easy to use.
Salt Lake Wedding Reviews offers wedding vendors of every kind. From booking a wedding venue in the salt lake area to finding a photographer, brides will be happy with this wonderful resource. There are many resources that brides can use for wedding planning but this one is great for brides who live in the Salt Lake City area.