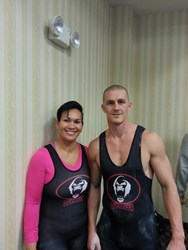 I was in the gym by 4:30 every morning because I see patients beginning at 7 a.m.
Gloucester, Va. (PRWEB) December 31, 2013
Mary Snavely and Justin Heinle of Tidewater Physical Therapy's Gloucester Courthouse location both earned first place in their respective deadlifting divisions in the 100% Raw Powerlifting Virginia State and Christmas Classic in Zion Crossroads last month.
Snavely, a physical therapy assistant, placed first in the sub-masters division for deadlifting 270.1 pounds. Heinle, Performance Coach at the Tidewater Performance Center in Gloucester, earned first in the open division for his deadlift of 424.4 pounds.
Snavely started training in June 2013 at the urging of Heinle.
And it wasn't easy, she said, explaining that you really have to commit to the training.
"I was in the gym by 4:30 every morning because I see patients beginning at 7 a.m.," Snavely said. "I have a hectic schedule with sitting on the board for varying youth sports, three teenagers and a body building active duty military husband."
In Snavely's three competitive lifts, she logged 220 pounds, 259 pounds and 270.1 pounds.
"I felt I could have done more but you only get three tries," Snavely said. "Everyone was so encouraging and cheering each other on. It was great to have Justin participate as well, not just having him there as my coach, but also as a fellow competitor."
Heinle's top lift came in at 424.4 pounds.
"We train to move and then add strength to it," Heinle said. "Deadlifting is just one part of my training. Once I can execute the movement, I load the movement as much as possible. I personally enjoy picking really heavy things up off of the floor. If you're strong and efficient the possibilities are endless for what's next."
Snavely's next competition is March 15 and, she added, "I will lift over 300" pounds.
TWEET THIS: Heavy news! Tidewater Physical Therapy's own win deadlifting competition! #livelifestronger http://www.tpti.com
ABOUT TIDEWATER PHYSICAL THERAPY:
Founded in 1986, Tidewater Physical Therapy remains a physical therapist-owned, independent, outpatient physical therapy practice, with more than 30 locations across Southeast and Central Virginia and two Performance Centers. The Performance Centers, located in Newport News and Gloucester, feature sports performance and personal trainers to help athletes and adults live life stronger on and off the field.
For more information about Tidewater Physical Therapy, visit http://www.tpti.com. Learn more about the Tidewater Performance Center at http://www.tidewaterperform.com.