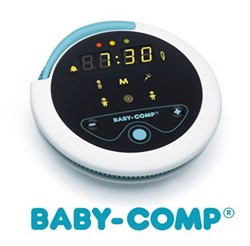 I became pregnant with a baby boy within just four months. Baby-Comp® was very easy to use. I have already given it to a friend, who is trying to have a child. - Mrs Kerimi
London, UK (PRWEB UK) 31 December 2013
A survey taken of women who use the natural fertility monitoring computer Baby-Comp® indicates that the device helps women who are struggling to become pregnant. Among those women surveyed, 75% of those who were childless before using the monitor became pregnant with the assistance of Baby-Comp®.
Research proven over 99 percent accuracy
Baby-Comp® is a fertility computer that uses advanced bio-mathematical projections, data from the cycles of over 700,000 women, and the data from a woman's own menstrual cycle to determine and predict a woman's fertile and non-fertile days with tremendous accuracy.
The fertility monitor has emerged as Europe's most trusted and recommended family planning monitor on account of its effectiveness, reliability, and simplicity of use. It determines a woman's ovulation cycles based on her morning temperature and informs her of her most fertile days.
Baby-Comp® also registers if a woman does not ovulate and notes when she has a hormonal imbalance, which may be responsible for early miscarriages (Corpus Luteal Insufficiency) as the embryo cannot survive without a properly functioning yellow body.
In a woman's menstrual cycle there are six days when a woman is capable of becoming pregnant—five days before ovulation and the day on which she ovulates. Ovulation creates a small but detectable increase in body temperature when it occurs. Baby-Comp® uses daily individual temperature readings combined with data from over 700,000 cycles of other women and bio-mathematical forecasting to generate clinically proven accurate projections of a woman's unique fertility times. Furthermore, it identifies different causes of infertility using statistical methods, making it an asset to those who are struggling with conception.
Baby-Comp® uses a simple three-color system to immediately indicate fertility status after temperature taking. Green means 'infertile', red means 'fertile', and yellow indicates the computer is still in the phase of 'learning' a woman's fertility cycle. The fertility forecast indicates fertility status for the next 24 hours and following six days. Baby-Comp® learns and adjusts to women's individual cycles regardless of their cycle time lengths or any irregularities.
In addition to its accuracy and precision, Baby-Comp® offers women convenience and ease of use in their fertility tracking. Women receive the fertility computer already programmed with the time, date, and year in order to easily set a built-in daily alarm for 30 seconds morning temperature taking.
Designed and manufactured in germany, Baby-Comp is proven to be very effective at helping women get pregnant in a natural way, and at minimising the need for invasive, expensive medical procedures such as hormonal therapy, artificial insemination including in vitro, which result in many discarded human embryos (from many fertilised eggs only one is implanted).
One customer reviewed how Baby-Comp® had finally empowered her and her partner with intimate knowledge of her ovulation cycles and how she finally conceived, after long periods of effort. "I got pregnant after one month," she noted. "I had been trying for so long, but with your product I made it."
Effective natural birth control
Fertility monitors also work perfectly well for natural family planning; allowing women to avoid invasive coils or pills, which studies have shown carry risk of chemical abortion for all women taking the pills or using coils, by their anti-implantation mechanism, which doesn't allow to attach the newly conceived embryo to the mother's uterine lining. Unfortunately, many women are not given information by their doctors about anti-implantation mechanism and the risks they are exposed to, and the fact that these can be eliminated with a natural family planning approach such as the ovulation method.
Please visit http://www.lady-comp.co.uk for more information, clinical test results, and studies.
About Lady-Comp UK
Lady-Comp UK is the only authorised distributor of Lady-Comp® for the UK and Ireland – the most effective fertility & natural birth control & family planning computer available on the market.