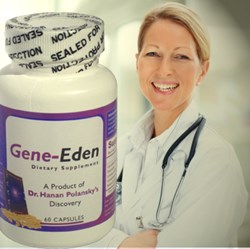 Gene-Eden-VIR was designed to target the latent HPV virus. We recommend that infected individuals ask their doctors about this natural remedy since it was clinically proven to reduce viral symptoms. – Mike Evans, polyDNA
Rochester, NY (PRWEB) January 05, 2014
A study found that the main route of oral HPV transmission is through sex. In fact, study authors wrote that "The sexual route remains the main route of transmission (20%), and people who have oral sex have a 50% chance to acquire the oral infection (1)." Some of these individuals will go on to develop a type of genital wart in the mouth (1). These oral warts are characterized by "little pinkish or whitish nodules, which proliferate over tongue, lips, palate and floor of mouth… (1)." In addition, these warts are "usually cauliflower like (1)," and have an incubation period of 2 to 8 weeks (1). polyDNA recommends Gene-Eden-VIR to infected individuals to help their immune system target the latent HPV. This natural product was clinically proven to reduce viral symptoms in a study that followed FDA guidelines.
Interestingly, study authors wrote that "High risk sexual behavior of cohabiting numerous partners, particularly when initiated at an early age play a major role in its pathogenesis. HPV infection is more strongly related to couples who practiced oral sex as against couples who solely practiced vaginal sex (1)." What this means is that people who live together and have more than one sexual partner (polyamorous couples etc.), those who have oral sex, and those who have sex when very young, all had a higher risk of acquiring an oral HPV infection.
It is important to note that most people clear the HPV virus within 2 years. However, in about 10% of the population, the immune system does not clear the virus, and diseases can develop, such as genital warts, oral warts, anal warts, and certain types of cancer, including head and neck cancers. As the study said "the immune system clears most HPV naturally within 2 years (about 90%), but the ones that persist can cause serious diseases. HPV is an essential carcinogen being implicated increasingly in association with cancers occurring at numerous sites in the body (1)."
"Gene-Eden-VIR was designed to target the latent HPV virus. We recommend that infected individuals ask their doctors about this natural remedy since it was clinically proven to reduce viral symptoms." – Mike Evans, polyDNA
A study published on August 12, 2013 in the peer reviewed, medical journal Pharmacology & Pharmacy, in a special edition on Advances in Antiviral Drugs, showed that Gene-Eden-VIR reduced HPV symptoms. Study authors wrote that, "Individuals infected with the HPV…reported a safe decrease in their symptoms following treatment with Gene-Eden-VIR (2)." The study authors also wrote that, "We observed a statistically significant decrease in the severity, duration, and frequency of symptoms (2)."
To learn more about Gene-Eden-VIR, and HPV visit http://www.gene-eden-kill-virus.com. All orders of Gene-Eden-VIR are completely confidential, and no information is shared or sold to any third party. Privacy is assured.
References:
(1) An update on oral human papillomavirus infection. Published in July 2013.
http://www.ncbi.nlm.nih.gov/pmc/articles/PMC3841675/#ref27
(2) Gene-Eden-VIR Is Antiviral: Results of a Post Marketing Clinical Study. Published on August 12, 2013.
http://gene-eden-kill-virus.com/PP_Gene-Eden-VIR-is-Antiviral.pdf
polyDNA is a biotechnology company that develops dietary supplements using the unique scientific method developed by Dr. Hanan Polansky, which is based on Computer Intuition.
In addition to his unique scientific method, Dr. Polansky published the highly acclaimed scientific discovery, called Microcompetition with Foreign DNA. The discovery explains how foreign DNA fragments, and specifically, DNA of latent viruses, cause most major diseases.
polyDNA developed Gene-Eden-VIR, an antiviral natural remedy that helps the immune system kill latent viruses.