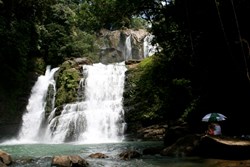 (PRWEB) December 31, 2013
In the past two decades, Costa Rica has become well known for its natural beauty and eco-tourism. With over 25% of the country's land protected in reserves and national parks, it has created a haven for adventurers and nature lovers alike. With a burgeoning market for upper-end travelers looking to get off the beaten path, have plenty of local tours and activities and still have all of the modern day comforts—Dominical is in the pole position.
These days, the modern, affluent traveler can do it all—explore the wilds of Costa Rica, relax on pristine beaches, and come home to a luxury vacation rental home with all the amenities. Vacation rental villas such as Villa de Agua allow adults to be in the heart of the great outdoors, and still feel like royalty.
Los Elementos: Villa de Agua sets the standard for 'luxury in the rainforest', with 10,500 square feet of living space for just 4 master bedrooms. A concierge can assist with setting up any tours, transportation or services—from a zip-lining to a private chef. Based on local experience and past client reviews, here is the Top 10 Tours list, according to Los elementos:
Surfing
Dominical is one of the best, most consistent surf breaks in Costa Rica, and has earned itself a name on the surfer's Pacific Coast Trail. Whether a beginner, intermediate or advanced surfer, a number of local breaks caters to different skill levels—and there are plenty of great instructors around.
Price: $40-60 per person, depending on group size
Duration: 2 hours
Rafting
There is great rafting in Costa Rica, and Dominical is the gateway to a number of fun rivers, including the Coto Brus, Guabo and Savegre. Different rivers offer different skill level rapids (class II-V), and all include transportation and lunch. Every river is gorgeous!
Price: $100 per person
Duration: 4-6 hours
Mangrove Kayaking
The Sierpe mangrove system is one of the largest in Costa Rica, and a haven for local wildlife such as birds, monkeys, crocodiles, crabs and more. The Boca Coronado mangroves are the gateway to this labyrinthine system, and make for a great day of exploration. Kayaks allow visitors to appreciate the nature in serenity.
Price: $65 per person
Duration: 4 hours
Tropical Safari Tour
Hop in a 4x4 safari vehicle and traipse through the mountains, exploring a nature reserve, local waterfalls, and majestic coastal features. Go swimming in the waterfalls, stop at scenic points and finish off the day with a yummy meal.
Price: $50 per person
Duration: 4 hours
Reptilandia
Reptilandia is a reptile zoo set in the mountains between Dominical and San Isidrio. Its home to all of the scaly, slithery beasties one can imagine—snakes, lizards, turtles, crocodiles and more. Great for the kids!
Price: $4 per person
Duration: At own pace (about 30 min)
Sport Fishing
The Pacific coast of Costa Rica is known for its deep offshore waters and great sport fishing. Choose between a half-day inshore (snapper, roosterfish, etc.) or full-day offshore (billfish, mahi mahi, tuna, etc.). Price includes drinks and snacks.
Price: $500 and up
Duration: ½ to full day
Nauyaca Waterfalls
Nauyaca is of the most beautiful waterfalls in Costa Rica. Set in the mountains between Dominical and San Isidrio, it requires a 45-minute horseback ride through the rainforest to get there. Swim in the pools, jump off the cliffs and have a delicious meal after!
Price: $65 per person
Duration: 4 hours
Horseback Riding
Rancho La Merced is a national reserve with over 1000 acres of mountains, rainforest, rivers, waterfalls, and wildlife. Go horseback riding with a local guide either to the mountains and waterfalls, or enjoy a ride on the beach at sunset.
Price: $45 per person
Duration: 2 hours
ATV Tour
The Talamanca mountains provide a veritable playground for 4x4 vehicles. Explore rugged 4x4 roads by ATV through the rainforest to rivers, waterfalls and scenic vistas.
Price: $85 per person
Duration: 3-4 hours
Whale & Dophins Tour
The Costa Ballena—aka 'The Whale Coast'—has earned its name for a reason. Twice a year the great humpback whales migrate to the warmer waters of Costa Rica to spawn, and the coast near Dominical is a veritable playground for mothers and their calves alike.
Price: $70 per person
Duration: 4 hours