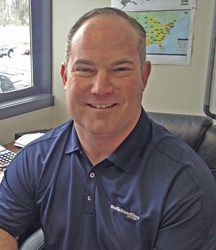 EUGENE, Oregon (PRWEB) December 31, 2013
Bulk Handling Systems (BHS) has named Spence Bowen to the position of Regional Sales Manager. He will oversee BHS, Nihot and NRT product sales in the Southeastern United States. Bowen has more than 13 years of experience selling capital equipment and heavy machinery.
"Spence has had great success as a business development manager," said Bryce Malone, BHS Director of Sales and Marketing. "He really fills a need for us in the region and we're excited to welcome him to the BHS family," Malone went on to say.
"During my research phase, it became clear that BHS is a leader in this industry," said Bowen. "The screening, air and optical technology are top-of-the-line, and the company's expertise is impressive. I am fired up to represent BHS and all that we offer."
Prior to joining BHS, Spence was the Eastern Regional Business Development Manager for Case-New Holland, a manufacturer of agricultural and construction equipment with responsibility for all business east of the Mississippi River. He has a Bachelor's Degree from Kennesaw State University.
Bulk Handling Systems (BHS)
Headquartered in Eugene, OR, BHS is a worldwide leader in the innovative design, engineering, manufacturing and installation of sorting systems and components for the solid waste, recycling, waste-to-energy, and construction and demolition industries. Clients around the globe choose BHS because of its experience, dedication to cutting-edge technology, quality construction and durability, and unmatched customer service. BHS has built some of the biggest and most durable MRFs in the world – and they are achieving the highest throughput, recovery, and purity rates in the industry.