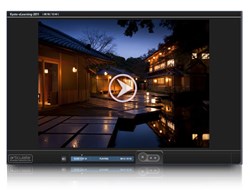 The basic travel agent training program is an introduction to the many facets of Kyoto City rooted in its subtle refinement and elegant simplicity known as "wabi-sabi".
(PRWEB) December 31, 2013
Kyoto, voted the Best City in Asia by Conde Nast Traveler readers in 2013, has launched an introductory, interactive online travel agent education program. The program focuses on "Omotenashi" the Japanese concept of intrinsic hospitality that pervades every aspect of the tourism industry in the city of Kyoto, Japan's ancient and cultural Capital. Travel agents can log onto the program at http://www.jaxfax.com, where they'll see the "Kyoto Destination Training" box in the upper left, and can "Click to Get Started". Travel Agents completing and passing the 24-slide program will be added to Kyoto City's email list for future training, specials, client assistance, and more.
The basic program is an introduction to the many facets of Kyoto City rooted in its "wabi-sabi" – subtle refinement and elegant simplicity. Travel agents will learn about Kyoto's 2000 Buddhist temples and Shinto shrines, as they touch the surface of Kyoto's multi-layered history and its refined arts, crafts, and cuisine. They will learn the importance of seasonality from freshly picked mountain vegetables to New Year's mochi (pounded sticky rice cakes) to spring's cherry blossoms and autumn's crimson maple leaves. They will encounter varied accommodations from branded Western-style hotels to luxury ryokan (Japanese inns) to machiya or merchant houses that have been refurbished and redefined as tourist rentals. Agents will be exposed to the performance tradition of maiko and geiko (Geisha elsewhere in Japan) and their importance today as symbols of the melding of the past and future in this vibrant but conservative city that while traditional, is also home to chic department stores, seven Michelin Star restaurants, Nintendo's Headquarters and Japan's newest Manga museum.
For more information on travel to Kyoto agents should visit: http://www.kyoto.travel or contact US Representative, Marian Goldberg at: 1-347-559-MGMC(6462) or marian(at)mariangoldbergcomm(dot)com