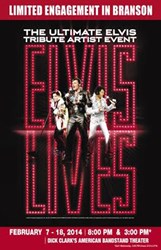 Took my parents and wife as we are all fans of Elvis. I, honestly, did not expect the quality of the show to be at that level. If they come back, we are going again!
Branson, MI (PRWEB) December 31, 2013
Legends in Concert, in association with Elvis Presley Enterprises, Inc. (EPE), announced today that the acclaimed theatrical attraction ELVIS LIVES® "THE ULTIMATE ELVIS TRIBUTE ARTIST EVENT" will make a stop in Branson, MO during their 20+ US city tour with a 12 day run at Dick Clark's American Bandstand Theater, February 7-18, 2014.
After a highly successful 2012/2013 touring season that performed for over 100,000 fans in 65 cities across North America, the demand is greater than ever from communities requesting that the ELVIS LIVES tour be presented in their markets. This fourth annual production of ELVIS LIVES begins January 4th on a schedule that will visit dozens of cities in early January before arriving in the Live Show Capital Of The World, Branson, Missouri.
ELVIS LIVES, which continues to capture the imaginations and interests of fans of all types including Broadway, concert and Elvis aficionados, is an unforgettable multi-media and live musical journey across Elvis' life featuring finalists from EPE's annual worldwide Ultimate Elvis Tribute Artist Contest, each representing Elvis during different stages in his career. Dean Z, the newly crowned 2013 winner of EPE's Ultimate Elvis Tribute Artist Contest and Branson Legends in Concert's resident Elvis will play tribute to the 1950's era. Dean Z and 3 other competition finalists will be joined by a live band, back-up singers and dancers, along with an Ann-Margret tribute artist, as well as iconic media and imagery made available from the Graceland archives including a never-before-seen exhibit of life-size images of Elvis' stage-wear that will be on display in the lobby of each theater hosting a performance.
"The partnership between On Stage Touring and EPE provides the only authentic touring showcase of Elvis tribute artists for fans who want to experience the music and live performance charisma of one of the most popular recording artists in history," said Brian Brigner, Chief Operating Officer of On Stage. "Our thriving production showcases each performer portraying Elvis in one of four eras: the 1950s, 1960s, his movie career and his concert years, so it is the complete musical package."
"We are very pleased that ELVIS LIVES continues to delight audiences from coast to coast and that even more Elvis fans will be given the opportunity to see these talented entertainers in these expanded markets," said Kevin Kern, Director of Public Relations for EPE. "We are especially delighted that the latest Ultimate Elvis Tribute Artist Dean Z, will be joining the tour in January."
Show dates for Branson are February 7 - February 18, 2014.
Show times are 8:00pm with a 3pm show on Wednesdays.
Call the office for discount tickets to this show or more information about the tour at 1-800-432-4202.