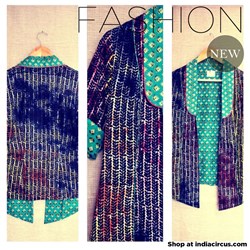 Create. Curate. Contemporary, Culture
(PRWEB) January 02, 2014
This New Year, IndiaCircus, the lifestyle, fashion and home decor label, headed by the brilliant Krsna Mehta, delves into its fashionable side with its latest collection of apparels. The range comprises of new jackets, waistcoats, palazzo pants and lots more.
Attire just got a new twist this week with the latest range of jackets. With exciting cuts and excellent fits these jackets are very edgy and fashionable. The jackets also have a variety of designs and patterns ranging from stripes and ikat patterns to floral motifs. These jackets have a youthful and contemporary vibe and will definitely make that unique fashion statement.
Keeping in mind the trends for the season, IndiaCircus has also launched a collection of palazzo pants. These pants have a touch of fun and are extremely fashion forward. Available in a range of colors and designs, these pants will add that style element to any wardrobe.
Need that outfit for looking professional or going out? Then the range of waistcoats are just right. The waistcoats are casual, chic and can be worn with a pair of jeans or a skirt. These waistcoats have vibrant colors and exquisite designs which make them stand out.
For some color and fun, IndiaCircus also has launched a range of t-shirts for both men and women. With quirky patterns ranging from funky umbrellas, double decker buses to wise owls, these t-shirts are unpredictable and will add that edge to any style.
IndiaCircus is a design house which believes in attention to detail. Each thing that we design has to be something unique and precious. It is this design ideology that makes every product of IndiaCircus a true pride and pleasure to own. For more details log into indiacircus.com.