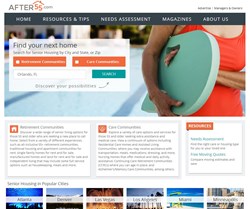 The introduction of the AFTER55.com brand meets the needs of a rapidly expanding market segment by providing ideal, user-friendly home search tools for seniors, baby boomers, and their adult children.
Norfolk, VA (PRWEB) January 02, 2014
With Baby Boomers constituting 50% of the U.S. population, according to Nielsen, AFTER55.com™, a For Rent Media Solutions™ brand dedicated to senior living, is introducing a new website and housing publication on January 2. With a diverse audience, including those over the age of 55 and a significant number being between the ages of 35-54, AFTER55.com was created to appeal to seniors, baby boomers and their adult children, who may be assisting in the housing search or planning for their own future. This launch will replace the former SeniorOutlook.com®.
"Our main priority is to provide outstanding marketing solutions for our customers and valuable housing resources for consumers," said Terry Slattery, president of For Rent Media Solutions. "The introduction of the AFTER55.com brand meets the needs of a rapidly expanding market segment by providing ideal, user-friendly home search tools for seniors, baby boomers, and their adult children."
Innovative Website
Taking boomer and senior search preferences into consideration, the new AFTER55.com is geared to provide user-friendly tools and resources that will assist those 55+ as well as their adult children in identifying housing communities that meet their needs. Visitors to the mobile-friendly website will find a Senior Housing Needs Assessment, which will help determine which type of community fits their lifestyle. Once the best type of community has been identified, seniors and their children can browse a robust assortment of home listings that fit their requirements. Accompanying the site is a lifestyle blog, which will provide advice concerning lifestyle topics, including health and finances, for the 55+ demographic.
AFTER55.com community listings showcase large photos, videos, floor plans, features, directions and detailed descriptions to help make the search process easy and enjoyable for seniors and their adult children.
Print Publication
AFTER55.com, A Senior Housing and Care Resource, is the printed resource that complements the AFTER55.com website and gives seniors and their loved ones an alternative option for searching for the perfect 55+ community, driving offline action to online conversion. This resource, with an average pick-up rate of 96%, is conveniently distributed at a number of locations across the country.
"Today's communities house seniors from three separate generations, each with distinct needs," said Robyn Epps, national director of sales and development for AFTER55.com. "AFTER55.com was created to be a valuable resource for multiple generations by providing housing options and useful tools that will appeal to a variety of lifestyles."
As an added benefit to advertisers, AFTER55.com is part of a larger network that includes ForRent.com® and Homes.com®. Both sites, averaging over 900,000 monthly 55+ visitors, will feature senior listings powered by AFTER55.com, ensuring that community listings are seen by an even wider audience.
To learn more about advertising with AFTER55.com, please visit bit.ly/after55.
Take a tour of the new website, watch the video tutorial or browse photos and more at http://www.AFTER55.com.
About AFTER55.com™
With so many different factors, locations and housing types to consider, searching for senior housing and care can be a daunting task. Equipped with a powerful suite of interactive tools, resources, and search options, AFTER55.com™ makes navigating the world of senior housing and care facilities easier. AFTER55.com™ listings span a broad spectrum of housing types and levels of care needs from independent living to assisted living, ensuring that you find the perfect place for the 55+ lifestyle.
About For Rent Media Solutions™
Founded in 1982 as For Rent Magazine®, For Rent Media Solutions™ is headquartered in Norfolk, Va., and provides property managers and owners with diverse marketing and advertising products. These products are easy to use, easy to understand, and designed with renters in mind. For apartment shoppers, For Rent Media Solutions provides robust community listings in a multitude of media, including print, social, online, mobile, video and an extensive distribution network. For Rent Media Solutions publishes 85 magazines covering more than 80 markets nationwide, including AFTER55.com™ A Senior Housing and Care Resource, ForRent.com® Magazine and ForRent.com en Español Revista De Apartamentos. For Rent Media Solutions operates five additional websites: ForRent.com, AFTER55.com™, Corporate Housing.com®, ForRent.com en Español and ForRentUniversity.com™. Visit ForRent.com for more information, or visit us on Facebook, Twitter, YouTube and LinkedIn.
About Homes.com®
As one of North America's top online real estate destinations, Homes.com® Rentals inspires consumers to dream big. From affordable houses to luxurious estates, condos, apartment rentals and more, Homes.com features nearly 3 million property listings and a user-friendly format, making finding your next home easy. Visitors to the Homes.com blog will find a collection of rich content and posts on DIY projects, painting, organization tips and more, providing the ultimate resource for everything home related. From finding your first apartment to buying your first home, upgrading, downsizing and everything in between, Homes.com is an inspiring and engaging partner in every phase of the home buying or renting process.
Homes.com is a division of Dominion Enterprises, a leading marketing services and publishing company headquartered in Norfolk, Virginia. For more information, visit http://www.dominionenterprises.com.