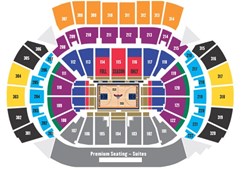 Phillips Arena Atlanta Georgia is one of the most premier stadiums in the country
Atlanta, GA (PRWEB) January 03, 2014
Located in the south's 'crown jewel' city of Atlanta, Georgia, Philips Arena is a multi-use entertainment complex adjoining Atlanta's CNN Center, encompassing the Omni Hotel, multiple restaurants, shopping, MARTA's rail line and even the Georgia Dome. Built in 1999 at a cost of just under $214 million, Philips Arena is the home to the NBA's Atlanta Hawks and the WNBA Atlanta Dream and has even hosted an Ice Hockey team in years past.
Philips Arena is truly one of the best arenas in the U.S. for a variety of reasons: They regularly host the very best entertainers and bands, from Aerosmith to Madonna, as well as special events such as Barnum & Bailey's Circus. Philips Arena was the World's very first LEED (Leadership in Energy & Environmental Design) Certified NBA arena. This has had huge implications for the structure, from tax credits, zoning allowances and asset value, while utilizing best in-class building strategies to reduce its environmental footprint.
Table of Contents:
1. Dining
2. The Philips Experience
3. Philips Arena Address
4. Philips Arena Seating Charts
5. Parking | Directions | Mass Transit
Dining: With Philips Arena being attached to a mega-complex consisting of retail, office and hotel space, it naturally offers the hugely diverse crowd more dining options than virtually anywhere else, all within walking distance. Whether you're in the mood for a prime steak and a lobster tail or a just a simple hot dog, the Philips arena complex has it. Inside the arena, the newly opened sit-down restaurant "Red" is truly a unique place to dine, as you can literally see the court from your table as the restaurant was designed using a 'multi-tier' floor plan, utilizing the most advanced architectural methods; all to enhance the experience of the fans. They also offer a Taco Mac location, offering the largest selection of craft and on-tap beers, as well as the best wings you'll ever put in your mouth. There are also a host of other great eateries that locals and newcomers will appreciate, especially Buckhead Life Restaurant Group's 'Nava', 'Pricci' and even a mini version of 'Chops', one of the top steakhouses in the U.S.!
The Philips' Experience offers fans a 10,000 sq. ft. section of hands-on fun, as well as the "Hawk Walk", a veritable playground of interactive games, merchandise and goodies for fans of the Atlanta Hawks. Combine this with the great dining options and ease of access, and you have the makings of a fantastic fan experience. Philips Arena also offers wonderful VIP accommodations including luxury suites or skyboxes, a Club Level with its own huge array of dining options, catering, business meeting space and exclusive 'Member's Only' areas.
Philips Arena Address and Seating Chart Atlanta, GA: 1 Philips Drive, Atlanta, Georgia 30303
Parking & Mass Transit: Philips Arena offers parking via reserved lots and public parking, but the best way to get there without the headache of traffic is jump on MARTA (Metro Atlanta Rail Transit Authority) from any number of stations located in all directions from city center. Atlanta's 'subway train' conveniently has a Philips Arena station, so after exiting the train you merely take an escalator or two and you arrive in the center of the complex.
Unique environments, a state-of-the-art 'green' structure and exquisite dining are yours when you visit Philips Arena. Ticket Monster has tickets for all events held at Philips Arena, including concerts, Hawks games as well as all special events. We never add any surcharges or fees, plus we provide our customers with excellent service.
For more information, call 866-217-4777, or visit TicketMonster.com.