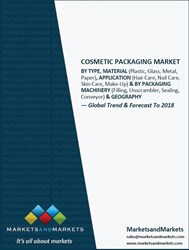 Rockville, MD (PRWEB) January 07, 2014
Cosmetic Packaging Market by Type, Material (Plastic, Glass, Metal, Paper), Application (Hair Care, Nail Care, Skin Care, Make-Up) & by Packaging Machinery (Filling, Unscrambler, Sealing, Conveyor) & Geography - Global Trend & Forecast to 2018
The cosmetic packaging market is one of the most vibrant packaging markets, which includes the diversified types of packaging and their materials used across the regions. With a huge market potential and growing consumer preference, the market is likely to witness substantial growth in the coming years. This report estimates the market value of the cosmetic packaging & its machinery. Paper, glass, metal and plastic are largely used for cosmetic packaging. The global market is broadly divided on the basis of types of packaging used such as bottles, tubes, jars & containers, sticks, pumps & dispensers, pen types, roller balls, caps & closures, and others. Main cosmetic packaging equipment type covered in the report are filling machine, sealing machine, conveyors, and unscramblers. In terms of geography, the report is segmented into Asia-Pacific, Europe, North America, and Rest of the World (ROW).
The cosmetic packaging machinery market spans various stakeholders such as cosmetic manufacturers, cosmetic packaging manufacturers, traders, distributors, and raw material suppliers. The leading companies playing an active role in the market include Amcor Ltd. (Australia), HCP Packaging (China), Albea (France), etc. The industry players prefer strategies such as new product launches and agreements with the regional players to garner a larger share in the market. The cosmetic packaging machinery players are adopting market development strategies such as expansion.
To order this report:
Cosmetic Packaging Market by Type, Material (Plastic, Glass, Metal, Paper), Application (Hair Care, Nail Care, Skin Care, Make-Up) & by Packaging Machinery (Filling, Unscrambler, Sealing, Conveyor) & Geography - Global Trend & Forecast to 2018
Contact: Shauna
800.298.5699
Customerservice(at)marketresearch(dot)com
MarketsandMarkets
The MarketsandMarkets edge: Worldwide, market research reports are primarily sold for numbers, market segmentation and competitive landscape, within the business leaders. The analyst working with MarketsandMarkets come from the renowned publishing houses and market research firms globally adding their expertise and domain understanding.
About MarketResearch.com
MarketResearch.com is the leading provider of global market intelligence products and services. With research reports from more than 720 top consulting and advisory firms, MarketResearch.com offers instant online access to the world's most extensive database of expert insights on global industries, companies, products, and trends. Moreover, MarketResearch.com's Research Specialists have in-depth knowledge of the publishers and the various types of reports in their respective industries and are ready to provide research assistance.
Follow us on Facebook http://www.facebook.com/marketresearchdotcom
Follow us on Twitter http://www.twitter.com/marketresearch_
Cosmetic Packaging Market by Type, Material (Plastic, Glass, Metal, Paper), Application (Hair Care, Nail Care, Skin Care, Make-Up) & by Packaging Machinery (Filling, Unscrambler, Sealing, Conveyor) & Geography - Global Trend & Forecast to 2018 - Table of Contents:
1 Introduction
2 Executive Summary
3 Premium Insights
4 Industry Analysis
5 Cosmetics Market Overview
6 Cosmetic Packaging Market Overview
7 Cosmetic Packaging Machinery Market Overview
8 Cosmetic Packaging Market, By Type
9 Cosmetic Packaging Market, By Material
10 Cosmetic Packaging Market, By Application
11 Cosmetic Packaging Market, By Geography
12 Cosmetic Packaging Machinery, By Type
12.1 Introduction
12.2 Filling Machine
12.2.1 Semi-automatic Tube Filling Machinery
12.2.2 Fully-automatic Tube Filling Machinery
12.3 Unscramblers
12.4 Sealing Machines
12.5 Conveyors
12.6 Others
13 Cosmetic Packaging Machinery, By Geography
14 Cosmetic Packaging – Competitive Landscape
15 Cosmetic Machinery – Competitive Landscape
16 Company Profile (Overview, Financial*, Products & Services, Strategy, And Developments)