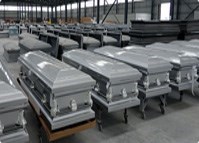 (PRWEB) January 05, 2014
Recently, MillionaireCasket.com, a leading funeral product company based in China, has proudly announced its latest casket wholesale business. The company produces custom products for its customers, and offers custom products with installation of special exterior hardware and interior panels.
According to Zoe Wong, CEO of the company, all their products are of premium quality. The prices are very competitive as well.
The company is among the world's most distinguished casket manufacturers and retailers. It offers a wide range of metal caskets and wooden caskets for clients worldwide.
"This promotion covers all the latest products of our company. All caskets are offered with a one-year warranty covering all of the parts, labor and shipping expenses. We have much experience in the industry, and we welcome all clients to visit our factory," Zoe Wong says.
About MillionaireCasket.com
MillionaireCasket.com is a leading funeral product company based in China. It focuses on the business of casket wholesale. It offers an exquisitely crafted line of all kinds of caskets, coffins and funeral products.
For more detailed information, readers can visit: http://www.millionairecasket.com/.