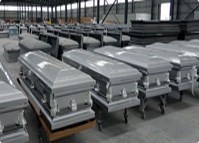 (PRWEB) January 07, 2014
Recently, MillionaireCasket.com, a leading China casket online supplier, adds several new designs of metal caskets to its product catalog and announces a special offer. According to a marketing specialist of the company, all new and old clients can get a discount, up to 35% off. The promotion will be valid until early February, 2014.
The company has also announced a new range of metal caskets a month ago. Thanks to a lower average price on every casket, its productivity has increased a lot now. The European and American markets are very important for the famous China casket manufacturer and supplier. The company wants to explore its effluence in the global market by launching such a promotion.
"We hold this metal casket promotion to show thanks to customers who have given us positive reviews. All our items are in line with the comprehensive ISO9001-2000 compliance quality control program. That enables us to supply good caskets for worldwide clients. Our products can also be made in any wanted measurement and weight. We also provide simple ones and designed ones," the marketing specialist says.
The newly released metal caskets come in 16, 18, or 20 gauge metal. What's more, MillionaireCasket.com offers OEM services. The caskets are treated with chemicals, so they will not be corroding or rusting.
About MillionaireCasket.com
MillionaireCasket.com is a leading casket company based in China. It focuses on the business of casket wholesale. It offers an exquisitely crafted line of all kinds of metal caskets, solid wood caskets, veneer caskets, cremation caskets, rental caskets, orthodox caskets, infant or over-sized caskets and European style coffins.
For more detailed information, readers can visit: http://www.millionairecasket.com/.