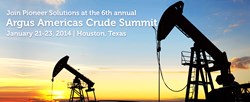 Visit Pioneer Solutions at the sponsored breakfast on Wednesday January 22!
Denver, CO (PRWEB) January 13, 2014
Pioneer Solutions will be traveling to Houston on January 21 – 23, 2014 to attend the Argus Americas Crude Summit.
With more than 350 oil market participants expected to be in attendance, the two and a half day event will focus on issues surrounding the crude oil market in the Americas. Topics to be covered span a variety of industry issues, such as "What can we expect from the prominent and emerging production regions?" and "How are politics changing the topography of U.S. crude?"
Speakers that will be at the event include Glenn Simpson, General Manager Crude and International Supply, Phillips 66 and Seth Kleinman, Head of Energy Strategy, Citi.
Come and visit Pioneer Solutions at the sponsored breakfast on Wednesday January 22.
Find Pioneer's representative or visit the exhibition hall to learn more about Pioneer's solutions and to set up a no-obligation demo.
For more information about this event, visit the Argus Americas Crude Summit information page.
About Pioneer Solutions
Pioneer Solutions is a global provider of next-generation CTRM, ETRM, environmental management and financial and regulatory compliance solutions. Pioneer's suite of solutions is based on their organically built, web-based platform, Financial and Regulatory Risk Management System (FARRMS), and offers comprehensive front, middle and back office process management for both physical and financial deals of all asset classes and commodity types.
The latest in business processing capability, Pioneer's products are web-based and template and formula-driven, providing the user a highly configurable environment for front- to back-office workflow automation of business processes. Ready 'out of the box' or tailored to customers' unique needs, their solutions allow for rapid implementation and fully integrate with existing systems.