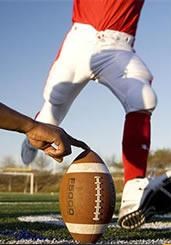 NFL Playoff Tickets for Sold Out Games in Seattle, Charlotte, New England and Denver Remain Available at Tickets-Cheapest.com, Cheaper Than Other Sites.
Denver, CO (PRWEB) January 06, 2014
NFL playoff pairings set for the wildcard round means some players going home and some fans are staying home because they can't buy tickets for their team's run to the Superbowl. Luckily, Tickets-Cheapest.com offers seats for every NFL playoff game including the relatively cheap sections to premium seats. While these tickets may not count as cheap on an absolute basis, prices at Tickets-Cheapest.com provided a lower total for ticket prices and fees than 25 competitive sites in the resale market including Stubhub in an exact seat showdown. Next week's playoff games in the NFL include these contests:
Seattle Seahawks vs. New Orleans Saints Saturday 1/11/2014 1:35 PM Seattle
Indianapolis Colts vs. New England Patriots Saturday 1/11/2014 8:15 PM Foxborough
Carolina Pathers vs. San Francisco 49ers Sunday 1/12/2014 1:05 PM Charlotte
Denver Broncos vs. San Diego Chargers Sunday 1/12/2014 2:40 PM Denver
Just because many tickets for good seats at sold out games cost a fair amount of money, it does not mean that one needs to overpay needless extra cash in addition. Tickets-Cheapest.com provides a site where people usually find the best prices for sold out tickets and premium seats. Sometimes inventory varies and it's best to check multiple sites, but Tickets-Cheapest should always represent a site to review while looking prime tickets, like NFL playoff tickets, because in cases where services offer the exact same seats they will be cheapest. Even where ticket inventory offers less in common, Tickets-Cheapest.com can provide the lowest cost options. The next few times the need for event tickets to a sold out venue comes up, do a personal price comparison, findings will prove Tickets-Cheapest.com comes out cheaper than Stubhub and Cheaptickets.com most every time too. If the specific tickets in question come out cheaper at Stubhub by all means buy those particular ones there, but try Tickets-Cheapest.com again on the next round. History indicates savings by using Tickets-Cheapest vs. Stubhub when looking for cheap sports tickets, why not sit in the exact same seats for less and use the extra money for a tailgating feast?
About Financial Firebird and Tickets Cheapest
The site to buy Cheap Tickets online and its sister sites, including the site to purchase Broadway show tickets or tickets for Broadway tours , all geared for the consumers looking for low prices, are affiliated with the Financial Firebird Corporation Travel Group, and stand among the top sites sought by travelers and people who enjoy concerts, pro sports and theater performances. Financial Firebird Corporation, established in 2000 and a proud BBB member, provides unbiased consumer information particularly involving personal unsecured debt or mortgages, software and marketing services. These sites for consumers to buy tickets online operate in the resale market and maintain no relationship with the venues or performers. The resale ticket market allows consumers access to popular events once the box office has sold out or to buy premium seats when the venue no longer offers any inventory. Within the group of these secondary market ticket services the Financial Firebird owned ticket sites offer lower prices than competitors. Find the site at Tickets-Cheapest.com.