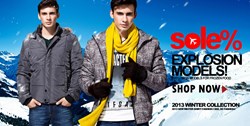 (PRWEB) January 06, 2014
Skmen.com is a popular online shop that offers various kinds of men's windbreakers, jackets, suits and more. Recently, the company has announced its new range of men's trench coats. Also, the company has launched a special offer on these high quality clothes. All of them are now offered at discounted prices, up to 32% off.
The CEO of the company says, "We are excited to announce these cheap men's trench coats. The special offer will be come to an end on January 30, 2014. If you are thinking of buying a high quality coat, please visit our website as soon as you can," he says.
He adds after a few minutes, "January is a great month for shopping. We want to expand our market share at the beginning of the new year. As an industry pioneer, we are now providing a wide range of high quality clothes for worldwide customers. If you are interested in our products, please visit our website as soon as possible."
The mission of Skmen.com is to create more quality clothes that can enhance the natural charm of gentlemen of all sizes. What's more, it is making every effort to serve customers from around the world in a better way.
About Skmen.com
Skmen.com, a China-based company founded in 2009, is one of the leading suppliers of men's and women's high quality clothes. It has more than 5000 customers from every part of the world, helping the people develop self-esteem, confidence and love of learning.
For more detailed information about Skmen.com and its various kinds of clothes, readers can visit http://www.skmen.com/product-men-s-trench-coats-009003004.aspx.