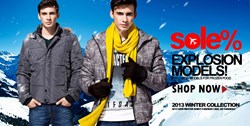 (PRWEB) January 08, 2014
Recently, Skmen.com, the top-ranking accessory supplier, has released 30 new designs of iPad mini leather covers. Now, the company's website is featured with many fashionable leather covers. What's more, the company provides great discounts (up to 35% off) and low shipping fees for all old and new customers before February 2, 2014.
According to the marking specialist of the company, all the new iPad mini leather covers are reasonably priced. They are all delicately made from high quality materials and have modern looks. The purpose of the company is to offer more accessories for worldwide customers.
Skmen.com is a China-based company that specializes in fashionable men's clothes, chic women's special occasion outfits as well as high quality accessories. It is well-known for a lot of award-winning designs, including wedding dresses, evening dresses, men's outerwear jackets and so on. It is now looking forward to a greater success in 2014.
"The promotion is specially launched to celebrate the new year and bring more benefits for worldwide clients. Now is time for worldwide consumers to buy nice iPad mini leather covers online. Please visit our website before making any decisions. You will get your ideal items at effortlessly through some clicks of a mouse," the marking specialist says.
About Skmen.com
Skmen.com, a China-based company founded in 2009, is one of the leading suppliers of men's and women's high quality clothes. Also, it offers pretty cell phone accessories. The company has more than 5000 customers from every part of the world, helping the people develop self-esteem, confidence and love of learning.
For more details, readers can visit http://www.skmen.com/product-ipad-mini-cases-010003.aspx.