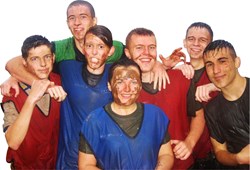 Results are no secret but there is a spirit of comeradeship fostered in the students, which means that differences in ability act as a magnetic rather than a separating force.
(PRWEB UK) 10 January 2014
There has been much recent debate about the impact of testing on young people and its effectiveness in preparing them for rewarding lives. The Military Preparation College has 14 years' experience of monitoring progress and setting individual targets. This approach is welcomed by the students and has a proven record, backed up by military enlistment statistics.
There are many learning styles, each suited to different students. The traditional education system, despite having many areas of excellence, is not ideally suited to some people. Such individuals may have great potential, but their abilities go unnoticed. It is important that young people receive the right encouragement to engage in the education system and have a desire to get the most out of it. Knowing how well you are doing in relation to meeting your chosen targets is very useful in terms of self actualisation, but rigid testing and public broadcasting of these results is not always ideal, since it can fail to incorporate wider issues and can be disheartening for the student, maybe detrimental to academic progress. For instance, many young people have a disrupted home life for a huge variety of reasons. This can affect sleep, diet, finance, confidence, punctuality and the overall ability or even desire to succeed.
League tables have come under the spotlight recently. It is generally agreed that the country should perform well in such tests. Young people in this country deserve a robust education which equips them for their futures, nationally, or internationally if they so desire. However, there is also a balance to be maintained between extremely high academic success and the ability to maintain confidence, enthusiasm and a community spirit and feelings of empathy with others. It is not uncommon for students from the top-performing nations, in the pursuit of academic excellence, to study for 14 hours per day, with evening classes every day. This has been linked to high depression rates and occurrences of suicide in young people due to the pressure. Not every student is able to climb to the top of purely academic league tables.
MPCT has been recognising the potential in every one of its students since it started 14 years ago. Some students lean towards academic study but others prefer to place more emphasis on physical training, leadership or teamwork. The British Army requires a mix of these values in its recruits, both across the board and in each recruit. Robustness, confidence, enthusiasm, determination, self respect and empathy for others are vital. These qualities are also important for ensuring that students are prepared in as diverse a manner for their futures if they decide that they wish to pursue a career path other than the Army.
The model of instruction at the College is centred on a high-energy curriculum, based on realistic short-term goals. Instructors are ex-military, so are able to enthuse students with first-hand knowledge. Students are monitored continuously to make sure that their academic skills, physical performance and confidence is being raised most effectively. Results are no secret but there is a spirit of comradeship fostered in the students, which means that differences in ability act as a magnetic rather than a separating force. Although there is a desire to succeed and make the most of one's abilities, students help each other out in order that they can all benefit from the opportunities around them.
The model of education at the MPCT, based on mentoring, camaraderie, short-term goals and realistic outcomes has proved extremely successful. Over 1,750 young people have successfully enlisted in the Armed Forces, with the dropout rate being substantially lower than that of the general population. The methods of instruction have often succeeded where the traditional education system has struggled. Students are tested and monitored closely throughout the course. The results don't polarise the students and promote exclusion by generating a desire for superiority at one end and a feeling of inferiority at the other end of the scale of performance. Instead, the process improves cohesiveness and inclusion through mutual feelings of the need for a common 'marching forward' as a robust unit, the strength of which arises from the recognised diversity of talents of its members.