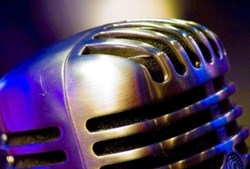 Clients can now have the same voice talent that appear on national radio and TV spots record their on-hold messages.
New York, NY (PRWEB) January 05, 2014
The voice over services industry has been experiencing a shift over the past 10 years with voice over casting directors and expensive recording studios becoming obsolete. Many professional voice over artists now have access to studios free of charge and can pass these savings onto their clients.
The news websites which allow clients to hire British male voice over artists and female voice over artists have shortened the casting process by weeks and allow administrative savings associated with hiring a voice actor by up to 70%.
Small and medium business usually require voice over recordings for applications such as on hold phone message and greetings, along with iPhone and iPad apps, corporate narrations and even business that produce in house radio and television commercials.
The Voice Realm marketing manager Robert James says the service has been a success with clients that have never used a voice over service before. "Many clients don't understand the whole casting process or anything about production. They just want a professional recording at a reasonable price. They are not fussy about which voice they get, they just want it to be done right. Clients can now have the same voice talent that appear on national radio and TV spots record their on-hold messages."
Voice over rates for small recordings using the QUICKcast feature are $55 for a script of 'Up to 30 seconds' and $85 for a script of 'Up to 60 seconds'.
The website is also providing a growing number of voice over jobs for British voice over talent who are looking for professional online representation, rather than just being listed alongside newcomers to the industry. The website has a very strict vetting process to make sure that all actors are experience, professional and reliable.
Whilst the website is intuitively automated, there is a team of customer support staff located around the world ready to assist clients with any assistance for castings, bookings or auditions, all free of charge.
Clients are able to audition voice talent with no commitment or any payment, to ensure that the voice is the right fit for the script.
The updated QUICKcast feature is now live and accessible at http://www.thevoicerealm.com/quickcast.php.