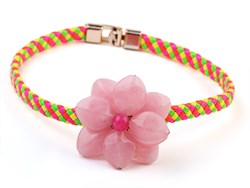 A New Collection of Cute Acrylic Necklace Available On Aypearl.com
Beijing, China (PRWEB) January 07, 2014
Today, Aypearl.com, one of the biggest China jewelry suppliers online, announced a new collection of cute acrylic choker necklaces, with reasonable prices and elegant looks.
Acrylic necklace is popular among woman these days, not only for its affordable prices, but also for its beautiful looks. Acrylic can be made into necklaces, bracelets, earrings and so on, and each of them has their own beauty. This series of cute acrylic flower necklace can be said to be the amazing work among acrylic jewelry. They are choker necklaces, and they are elegant and charming. With the cool leather, the necklace is almost perfect. Ladies can wear it in a party, and you will be shocked by the attention it brings to you! There are different color of acrylic flower and leather for you to choose. Don't hesitate and come to aypearl.com to pick one for yourself.
About Aypearl.com
As the leading supplier of women's jewelry, Aypearl's concept is to make women more beautiful by offering unique design and high quality women's jewelry to each customer. Good customer service, high-quality, fast delivery, and competitive prices, are the reasons to choose Aypearl. Welcome to wholesale jewelry from Aypearl.com .
Contact aypearl.com
Phone: 86-10-58697219
City: Beijing
Country: China
Postal Code: 100022
Email: aypearl(at)gmail(dot)com
Address: 2801 Building 8, Jianwai SOHO,39 East 3rd-Ring Road, Chaoyang Dist., Beijing, China
For more information about acrylic flower choker necklace, please visit: http://www.aypearl.com/acrylic-necklace/