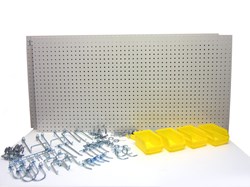 "Pegboards are an answer to my prayers. No more rummaging through and cleaning junk drawers. One look at the pegboard and items can be found. Our entire family loves it!"
Lake Oswego, OR (PRWEB) January 22, 2014
A disorganized desk or room is not only against the principals of lean but it can also be a safety hazard. Industrial Pegboard Kits are an excellent way to organize tools and supplies easily and effectively and are now offered through Creative Safety Supply. Pegboards can eliminate the need for tool boxes and will present tools and supplies in a much more visible way to reduce time needed searching for tools; hence, making a home or facility more lean and increasing productivity. Safety supplies such as face masks can be easily hung and visible for quick response to emergency situations.
Pegboards are a clever, simple and affordable way to keep everything from tools to crafts to kitchen utensils in their place and visible and always at the ready. Pegboards are not just for industrial facilities. Homeowners can reduce the chaos and misplacement of keys, dog leashes, screwdrivers, hammers, etc by placing them on a pegboard. Items can be returned to their spot on the pegboard instead of a junk drawer where precious time can be lost by rummaging through a drawer filled with every possible tool and gadget. Crafters will take great pleasure organizing their craft supplies that can be easily seen and returned when a project has been completed.
Creative Safety Supply offers the kits in 2-packs and 4-packs. The boards are 8 square feet (2' x 4') and ¼ inch thick making them ideal for placement in most any location. 24 hooks, 2 bins come with each board along with a spacer kit per order.
A homeowner commented, "Pegboards are an answer to my prayers. No more rummaging through and cleaning junk drawers. One look at the pegboard and items can be found. Our entire family loves it!"
For more information about Industrial Pegboard Kits, please visit Creative Safety Supply or call toll-free (866)777-1360 and speak with a professional representative.