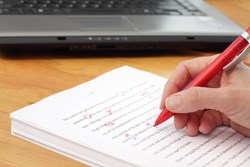 Many authors make common mistakes that prevent their pitches and books from getting noticed.
Houston, TX (PRWEB) January 08, 2014
It's never been easier to self-publish in both print and ebook formats, which has allowed for a surge in published books. While the rise in self-published work is good news, it has also saturated the market with books that fall short of professional standards.
Many authors make common mistakes that prevent their pitches and books from getting noticed. According to Strategic Book Publishing and Rights Agency (SBPRA), an independent publishing company, the following are the top five mistakes self-publishing authors commit:
1. Lack of originality, parroting and clichés
2. Carelessness and typographical/grammar errors
3. Telling and bragging instead of letting the work show for itself
4. Bad cover art and interior design
5. Lack of marketing platform, specifically on social media
Lack of originality: Authors need to do market research to find out what's already out there in their genre. It's hard to sell an idea that mimics something already out there; originality is important to success.
Carelessness and grammar errors: Authors need to read and reread their own work to eliminate errors. SBPRA has seen manuscripts with four or five complete chapters duplicated because of careless errors in duplicating files. This, as well as spelling and punctuation errors, are huge red flags and will turn off a reader, or worse, a reviewer.
Telling instead of showing: Bragging is bad news. Writing is an art, and if an author has written a great book, it will show.
Bad cover art: While clichés are often eye-rolling inducing, people really do judge a book by its cover. Authors are doing themselves a disservice by skipping on great cover art and an easy-to-read interior format, and ultimately missing out on readers.
Lack of marketing: Social media is not something authors can avoid when trying to self-publish. Millions of readers live and breathe the Internet, which means promotion via a website, blog and social media accounts are critical to success.
"By avoiding these five common mistakes, authors have a better chance at successfully launching and selling books," said Robert Fletcher, CEO of SBPRA. "These are simple things to fix and they make a huge difference in the perceived quality of a manuscript or pitch."
SBPRA's full services available here: http://sbpra.com/
About Strategic Book Publishing and Rights Agency
SBPRA has published more than 5,000 authors from over fifty countries. SBPRA's books are for sale in all the Western countries as well as China, Taiwan, India, Korean, and most of Asia. For more information, please visit http://www.SBPRA.com.
SOURCE: Strategic Book Publishing and Rights Agency