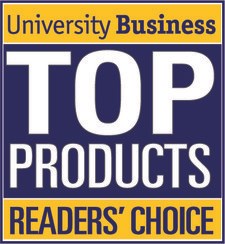 All of the honorees in our Top Products program should be very proud of their achievement.
St. Louis (PRWEB) January 08, 2014
CAMS Enterprise, Three Rivers Systems Inc.'s innovative, integrated and intelligent academic ERP system, has been selected as a University Business Readers' Choice Top Product for 2013.
Now in its second year, the annual University Business Readers' Choice Top Products award recognizes the most-innovative products in higher education. This prestigious list informs university leaders and administrators about the products their colleagues around the country are using to help their schools excel.
The winners were selected by the editors of University Business from hundreds of nominations submitted by readers. Winners were selected based on both the quantity of nominations and the quality of the nominees' testimony of the product.
The complete list of products has been announced online and in the January 2014 issue of University Business magazine.
"The fact that we saw an increased response in the second year of this recognition program is a testament to the interest that higher-ed leaders have in products for improving educational outcomes and operational efficiencies," JD Solomon, editorial director of University Business said. "All of the honorees in our Top Products program should be very proud of their achievement."
CAMS Enterprise's technology makes it a fundamentally different academic ERP designed for the modern world. An easy-to-use and implement, totally integrated, Web-native management system with everything in one place, CAMS Enterprise manages the entire student lifecycle, including admissions; student information; financial aid; student services; fiscal management with HR and payroll; fund-raising; alumni relations; document management; learning management; a full suite of portals and more.
About University Business
University Business is the most widely received, most regularly read publication for higher education leaders at two- and four-year colleges and universities nationwide. UB provides cutting-edge coverage of higher education technology, news, finance, policy, profiles and more to this exclusive audience across print, digital and in-person event platforms, including the annual higher-ed technology conference, UBTech. Independent surveys have proven that year after year, no other higher education management publication matches the reach, readership and audience engagement of University Business. For more information, visit http://www.UniversityBusiness.com.
About CAMS Enterprise
With an out-of-the-box configuration and self-service customization, CAMS Enterprise removes all barriers to success seen with conventional systems. CAMS' affordable licensing, off-the-shelf configuration and easy implementation translate into the lowest total cost of ownership of any academic ERP while yielding the quickest and highest ROI for colleges and universities of all sizes.
About Three Rivers Systems Inc.
Three Rivers Systems Inc. is the only privately held, independent, debt-free, one-stop company focused solely on high-quality academic ERP solutions exclusively for higher education. For more than 25 years from its St. Louis headquarters, the company is keenly focused on innovation and service to its worldwide customers. Always innovating, the company invests significant revenues back into product R&D to improve existing products while developing new ones so users always get the exact functionality, industry experience and accurate project management they need. Its business model and products are designed to ensure institutional effectiveness, more-efficient business processes, student success and satisfaction.
Products or service names mentioned herein are the trademarks of their respective owners.