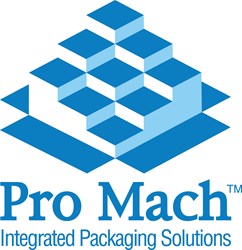 "Making the Inc. 5000 list for the third time is a tremendous feat. We have a significant opportunity to continue growing our business in North America and other markets" -- Mark Anderson, Pro Mach President & CEO
Cincinnati, OH (PRWEB) January 07, 2014
Pro Mach, Inc. announced today that it has been named to the 2013 Inc. 5000 list of the fastest growing private companies in the U.S. This marks Pro Mach's third time on the Inc. 5000 list and its highest ranking ever. Pro Mach achieved a 3-year sales growth rate of 65%, moving them up nearly 700 spots nationwide from its first year on the list in 2008 and garnering a ranking of #41 in the Cincinnati Metro Area.
"We're honored to be included among the fastest growing companies nationwide and in our home town," said Pro Mach CEO and President Mark Anderson. "We've continued to grow our customer base, introduce new products, and expand our capabilities during a challenging 3-year economy. This is a testament to our outstanding team across the U.S. and Canada who continually put our customers first to increase performance and value on their packaging lines."
Pro Mach is a leading North American manufacturer of packaging, material handling, food processing, and identification and tracking machinery. From its facilities throughout the U.S. and Canada, Pro Mach designs and builds over 20 brands of equipment that increase packaging line efficiency and performance for many of the world's leading consumer and industrial goods companies. On average, Pro Mach's customers purchase more than 8 of their brands. Pro Mach's capability to be a single source provider for a wide range of complementary products and integrated systems across multiple parts of the packaging and product handling process makes it unique in the industry.
Pro Mach has patented more than 100 packaging innovations and is a leader in the industry in sustainable manufacturing and incorporating common packaging machinery standards such as PackML. Pro Mach's ProCustomer® brand for service and support is at the forefront of ensuring a superior customer experience.
During the 3-year period measured by Inc., Pro Mach increased revenues by over $136 million – from $211 million to $347.4 million – and added 480 new jobs. Pro Mach also made 10 acquisitions during the past three years expanding its product and service capabilities and geographic markets. Pro Mach was acquired by The Jordan Company in 2011, a leading middle-market private equity firm.
"Making the Inc. 5000 list for the third time is a tremendous feat. We have a significant opportunity to continue growing our business in North America and other markets," said Mr. Anderson. "Our focus will remain on building long term customer relationships based on creating efficient, high-value packaging operations. We will continue to aggressively invest in our company and expand capabilities that allow us to better serve our customers."
According to Inc., there are nearly 7 million private companies in the U.S. and the 5,000 companies on this year's list reported aggregate revenue of $241 billion and created 520,000 jobs. "They are the hidden champions of job growth and innovation, the real muscle of the American economy," says Inc. Editor Eric Schurenberg.
About Inc.
Founded in 1979 and acquired in 2005 by Mansueto Ventures, Inc. is the only major brand dedicated exclusively to owners and managers of growing private companies, with the aim to deliver real solutions for today's innovative company builders. Total monthly audience reach for the brand has grown significantly from 2,000,000 in 2010 to over 6,000,000 today. For more information, visit http://www.inc.com.
About Pro Mach
Pro Mach is a leading provider of integrated packaging products and solutions for food, beverage, household goods, pharmaceutical, and other diverse consumer and industrial companies. Through multiple business units and related brands, Pro Mach provides equipment, installation, training, parts, and service in primary and secondary packaging, bottling and capping, flexible packaging, processing, end of line, material handling, and identification and tracking.
Pro Mach has a diverse customer base, from Fortune 500 companies to smaller, privately-held businesses worldwide, which depend on reliable, flexible, technologically advanced packaging equipment and integrated solution sets. Pro Mach is headquartered near Cincinnati, Ohio with manufacturing facilities and offices throughout the United States and Canada. For more information about Pro Mach visit http://www.ProMachInc.com.