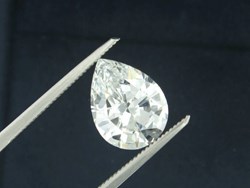 We are proud of the Inc. 5000 because most of these companies are start-ups, not 117 years old.
Columbia, MO (PRWEB) January 07, 2014
Buchroeders Fine Jewelers, mid-Missouri's largest diamond supplier, was recently named to the Inc. 5000 List, Inc. magazine's annual ranking of the United States' fastest-growing small companies.
The Inc. 5000 List is a significant measure of success for small companies across the country, and Buchroeders was one of a select group of Missouri companies to earn the accolade.
Mills Menser, President and Owner of Buchroeders Jewelers, noted the unique aspect of his company's recognition on the Inc. 5000 List. "We are proud of the Inc. 5000 because most of these companies are start-ups, not 117 years old."
Mr. Menser also illustrated how Buchroeders is endlessly adapting to consumer needs. "For instance, we recently developed a content-rich blog to inform and educate both repeat and potential customers. Even for a company founded in 1896, we realize how important the latest technology trends are for future growth."
Buchroeders also offers an exclusive custom jewelry design service, along with a jewelry repair team. This comprehensive suite of services, paired with the company's vast selection of diamonds and other jewelry, has ensured long-term success.
And that success, according to one company spokesperson, inspires each employee to constantly build on Buchroeders' considerable tradition in the jewelry buying community, in the greater Columbia area and beyond.
"We're proud of our established foothold in mid-Missouri," said a company spokesperson, "and we're excited for what tomorrow has in store. At Buchroeders, we never rest on our laurels. That's just one reason why we made the Inc. 5000 List."
Buchroeders Fine Jewelers added 3 employees in 2013, bringing the total number to 12. Ranked #3881 on the Inc. 5000 List, the company enjoyed an impressive 72% three-year growth, with 2009 revenue at $2.8 million and 2012 revenue at $4.9 million. With this substantial growth, Buchroeders came in at #46 on the top 100 companies in Missouri.
"Just like our diamonds and other fine jewelry, value never goes out of style," said Mr. Menser. "By providing our customers the best possible prices and exceptional customer service, we feel our best days are ahead."
For more information, please visit the entire Inc. 5000 list. The specific Buchroeders Fine Jewelers entry on the list contains additional company data. Inc. also has a list of the Missouri companies here.
About Buchroeders Fine Jewelers:
Buchroeders Fine Jewelers is an established diamond distributor in Columbia, Missouri. The company is a retail and wholesale jeweler, with special emphasis on diamonds, engagement rings, custom jewelry and other services. Founded in 1896, Buchroeders has remained a popular outlet for diamond and jewelry purchasers. Along with their trademark Best Price Guarantee, Buchroeders has expanded their services to include jewelry repair, a custom jewelry design team and an informative blog. Buchroeders is a proud affiliate of the JBT, Gemological Institute of America (GIA) and the Better Business Bureau