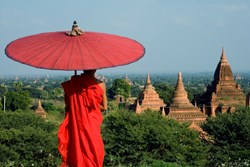 There aren't enough superlatives to describe Bagan – it's truly one of Asia's most captivating regions and is ideal for travelers of all ages.
Bangkok, Thailand (PRWEB) January 07, 2014
The four-day, three-night Myanmar holiday is the ideal option for families hoping to discover the authentic side of this fascinating nation. From the first moment, the insider tour offers the chance to see Bagan from a variety of scenic viewpoints, starting at the top of a temple and then on a guided tour by horse and cart.
Day two of the bespoke Bagan tour offers an optional experience to gain an elevated perspective with an unforgettable hot air balloon ride over the spectacular temples, stupas and villages at dawn.
The trip then moves to the busy Nyaung Oo market to observe locals going about their daily shopping duties. In nearby villages, travelers can see how the tasty local plum jam is produced and how the regional delicacy Peneyay is made.
Children will surely relish the chance to explore the hand-painted cave temples of Kyan Sitthar by torchlight. The trip then pays visit to Ananda (filled with mysterious smiling Buddha effigies) and Shwegugyi before heading to Mt Popa in the afternoon to relax in the lush green forest surrounded by breathtaking nature.
On the third day of the packed insider tour, travelers will return to the impressive Mt Popa to visit the famous shrine dedicated to the 37 animist spirits known as 'Nats'. Led by an expert Backyard Travel guide, tour takers can scale the mountain to discover breathtaking views of the surrounding area.
Later on, the local Backyard Travel guide will take travelers on a tour to a local village to observe the process of making sweet molasses and wine and witness the swift way the locals scale the palm trees to collect the juice.
Next the travelers have the chance to cruise to the village of Sae Lam to experience local life on the river first hand. The cruise ends just as the sun sets, giving a beautiful perspective of a magical moment on the river to cherish together as a family.
The unforgettable Myanmar tour is now available with a 15% discount when taken before 30th April 2014.
"There aren't enough superlatives to describe Bagan – it's truly one of Asia's most captivating regions and is ideal for travelers of all ages," said Backyard Travel's General Manager Maeve Nolan. "It's our hope this promotion will give more families the chance to visit breathtaking Bagan and enjoy their time traveling together on this inspirational tour."
About Backyard Travel
Bangkok based Backyard Travel is an online travel company specializing in tailor-made tours to Vietnam, Thailand, Cambodia, Laos, Myanmar, Indonesia, Japan and China. For more information about Backyard Travel, visit http://www.backyardtravel.com or Facebook page http://www.facebook.com/BackyardTravel.