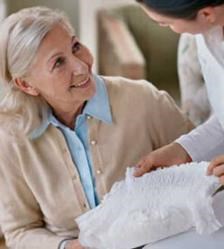 People commonly refer to all adult incontinence garments as "adult diapers" even though most of our customers use adult protective underwear.
Sterling Hts, MI (PRWEB) January 14, 2014
Finding the right incontinence product is hard. There are so many styles and brands to choose from that it can be overwhelming for people that are just starting to explore their options. As our aging population grows and the cost of long term care rises, families are looking to keep parents and grandparents out of Long Term Care Homes. Understanding the differences between Adult Briefs and Protective Underwear can help keep loved ones out of costly Long Term Care.
Disposable Adult Briefs are traditionally used to take care of adults that are bed confined or individuals that experience heavy to severe incontinence. Adult Briefs are available to the public, but are hard to find in retail stores. Having a product with the right absorbency will help prevent rash and help keep seniors stay at home longer. The briefs have 2 to 6 refastenable tabs to allow for proper fit. Most commonly, briefs have 4 tabs, which you can use at upward and downward angles to snug the material to the waist and thighs. It is important to buy the proper size of Adult Briefs to prevent leakage. Briefs are ideal for adults that have difficulty standing because they are easy to put on while lying down.
"People commonly refer to all adult incontinence garments as 'Adult Diapers' even though most of our customers use Adult Protective Underwear," according to Michael Kline of HomeDelivered.com. "Helping customers find the appropriate garment to meet their unique needs is key to making sure that they have the best experience."
Protective Underwear have become the preferred choice for adults with moderate to heavy urinary incontinence. These garments have an absorbent core and stretchy sides that allow the garments to be put on like traditional underwear. Protective Underwear are more discreet than Adult Briefs; giving incontinent adults the dryness and confidence they need to remain active.
By utilizing Adult Briefs and Protective Underwear properly, incontinent adults can improve their quality of life without leaving their home. Using the right incontinence product in conjunction with the help of health care professionals in Home Care Agencies or Assisted Living Homes can help your family avoid costly Nursing Homes.