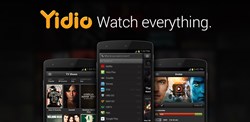 With the new LG Smart TVs, Yidio users can discover then preview and launch content directly on the TVs. Our customers will love this seamless experience, said Samuel Chang, LG Electronics USA senior vice president and head of LG Silicon Valley Lab
Las Vegas, Nevada (PRWEB) January 08, 2014
Gone are the days of searching across multiple apps to find something to watch on Android devices. Yidio, the largest streaming TV & movie guide on the web and in the iTunes App Store, is excited to announce the release of the Yidio Android app on the Google Play Store. The Yidio Android app allows users to easily search across the top TV & movie sites at once, in one comprehensive, fast and intuitive display.
"The launch of the Yidio Android app builds on the huge success of our iOS app launched last July. With over two million downloads and tens of thousands of TV shows & movies being watched daily, consumers have proven their appetite for consuming content anytime, anywhere," said Brandon Eatros, CEO & Co-Founder of Yidio. "Mobile usage of our service has grown 5x that of the web in the past 12 months, and we're excited to bring our app to the massive Android installed base."
Announced during CES 2014, Yidio has partnered with LG Electronics on its 2014 webOS Smart TVs that allow mobile apps to seamlessly pair and provide connected, multi-device experiences. With the Yidio Android and iOS apps, users will be able to effortlessly launch selected content on LG's next-generation Smart TVs powered by the webOS platform.
"We're excited that LG customers will soon be enjoying a connected experience while using Yidio," said Samuel Chang, LG Electronics USA senior vice president and head of LG Silicon Valley Lab. "With the new LG Smart TVs, Yidio users can discover then preview and launch content directly on the TVs. Our customers will love this seamless experience."
"Our partnership with LG is just the beginning of where we see huge potential for Yidio. Not only will we be solving the massive content fragmentation across devices, providers, and locations, but ultimately we will solve the fragmentation that will exist across all connected device end points including the television and gaming consoles," said Adam Eatros, COO & Co-Founder of Yidio.
For more information or to download the Yidio Android app, visit: http://www.yidio.com/app
Features:
-Advanced filtering across hundreds of data sets tailored to users preferences
-Unified search and browse across nearly every content provider
-Ability to easily track the episodes and movies you've 'watched'
-Facebook connect to quickly import your Likes and see your friends' Likes
-Push notifications when a new episode or movie from your favorites become available
-Over 1 million TV shows and movies available
-Personalized recommendations
About Yidio
Yidio, with over 15 million monthly users, is the leading personalized streaming guide that makes it easy to search, discover, and watch over one million TV shows & movies across hundreds of content services. Founded in 2008, Yidio (short for "Your Internet Video") is headquartered in San Francisco and available on the web, iOS and Android app stores. For more information, please visit http://www.yidio.com.
About LG Electronics USA
LG Electronics USA, Inc., based in Englewood Cliffs, N.J., is the North American subsidiary of LG Electronics, Inc., a $45 billion global force and technology leader in consumer electronics, home appliances and mobile communications. In the United States, LG Electronics sells a range of stylish and innovative home entertainment products, mobile phones, home appliances, commercial displays, air conditioning systems and solar energy solutions, all under LG's "Life's Good" marketing theme. LG Electronics is a 2013 ENERGY STAR Partner of the Year. For more information, please visit http://www.lg.com.
Media Contacts:
Yidio LLC
Adam Eatros
415-471-5227
adam(at)yidio.com
http://www.yidio.com
LG Electronics USA
John I. Taylor
(847) 941 8181
john.taylor(at)lge.com
http://www.lg.com