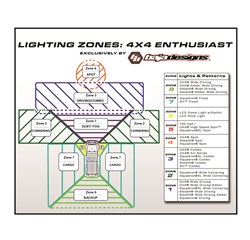 The ultimate goal of lighting is to create a smooth field of light that gives you the confidence to drive quickly with minimal fatigue. Each Zone has a recommended light and or pattern that will provide the best blend of illumination for your vehicle.
San Marcos, CA (PRWEB) January 08, 2014
The Scientists of Lighting at Baja Designs have created Lighting Zones to eliminate the guesswork of lighting set-ups. Baja Designs' unique Zones explain where each pattern should be used and placed. Whether blasting through the open desert, rock crawling in Moab or outfitting, operating a work truck for a night on the job, there are basic Zones of lighting that need to be filled.
Every type of driving application has specific lighting necessities. For some, it is long distance high-speed light, while for others it may be flood lighting or cornering patterns. Each Zone represents an area around the vehicle that needs to be illuminated. Depending on your chosen vehicle and terrain, not all Zones will need to be filled. In some cases such as Motorcycle, Snowmobile and UTV applications, a single light may cover multiple zones.
When deciding on a lighting setup, begin with Zone 3: Driving/Combo. This is the primary driving light and therefore the most important. From there, drivers may choose to add lighting to other zones depending on their driving style. Zone 1: Dust/Fog may be necessary for some applications, but not required on others. An industry favorite, Zone 2: Cornering patterns create what the Scientists of Lighting refer to as 'comforting light'. Beam patterns designed to cover this zone generate peripheral illumination that smoothly transitions into your driving light, eliminating tunnel vision. Next, Zone 4: Spot lighting provides the first level of long distance, high-speed lighting.
Corresponding lights for Zones 1-4 are ideally mounted down low on the bumper in order to lessen any refraction off of dust particles, fog, etc. If the application requires Zone 5: High Speed Spot® illumination, the ideal mounting location will be on the roof of the vehicle. It is recommended to wire zones to separate switches giving the ability to turn them on and off individually depending on specific needs and terrain.
Lighting for Zones 6: Rock/Dome, 7: Cargo/Work, and 8: Backup are optional.
Choose the trail and stop guessing, the night is waiting.
For more information on the recommended zones for any application, please visit: http://www.bajadesigns.com/science-of-lighting/lighting-zones.