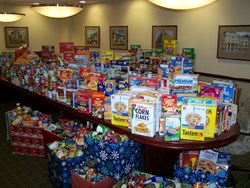 "Our food drive was very successful," President John Potvin said. "I am very proud of Equity Management's employees and residents, who donated extraordinary amounts of food."
Columbia, MD (PRWEB) January 09, 2014
In December, Equity Management collected enough nonperishable food to fill their entire conference room. The food collected has been donated to The Maryland Food Bank, an affiliate of Feeding America. In addition to the donations to Maryland Food Bank, boxes of food were given to several Equity managed properties with residents in need of assistance.
"Our food drive was very successful," President John Potvin said. "I am very proud of Equity Management's employees and residents, who donated extraordinary amounts of food."
Each of Equity Management's properties were provided with boxes to collect food. The staff and residents at these properties went above and beyond donating nonperishable food which made the annual food drive the most successful that it has ever been. These donations were able to help the one in six Marylanders that are unable to afford food.
Food drives are just one of the many ways that Equity Management has been giving back to the community and their residents. Properties have programs to assist youth, resident services for elderly, health oriented programs for residents and an annual blood drive.
Equity Management is a leading property management firm, specializing in affordable housing in the mid-Atlantic area with over 9,000 units under management in 7 states. The firm was recently recognized as the 57th largest manager of affordable housing by NAHMA (National Affordable Housing Management Association). This is the 5th consecutive year Equity Management has been named to the Top 100 list. Equity Management has experienced rapid growth and has a wide range of management services to help investors meet their needs.