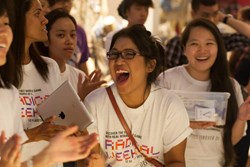 We would like to thank all those who have participated and given us feedback in 2013, and we look forward to making 2014 a great year for consumers and Brands alike who are part of the Radical community.
Bristol, UK (PRWEB UK) 8 January 2014
radicalRealms, the fun mobile experience that brings together games and competitions with great offers from leading brands is poised for an exciting 2014.
2013 saw a series of successes for this exciting new offering, including :

the global launch of radicalRealms at the Radical Weekend in Singapore in July 2013
the creation of a new community of thousands of Singapore consumers who have downloaded and benefited from radicalRealms
around 50 leading Brands participating with offers and competitions – including EpiCentre, Forever 21 and Gong Cha
the release of radicalRealms2 in November 2013, with a host of new games including [rR] Words, [rR] Shootstorm, [rR] Mushroom Showdown and [rR] Jumping Elves as well as improved offer navigation and redemption
regular appearances in the top 10 downloaded iPhone games in Singapore on the App Store
The year was rounded off at an exciting event, The Radical Hossan Leong Xmas Party, which saw members of the Radical community having an exclusive opportunity to meet Hossan Leong and see a unique performance.
Now on full commercial release, radicalRealms has a host of further innovations planned for 2014. These include:
The ability for members of the Radical community to donate Gems they earn through radicalRealms to charity, both by selecting monthly charities and impacting the allocation of the $1,000 monthly donation
A new "quiz" facility where consumers can get rewards and enter competitions by answering topical questions
New types of reward like additional discounts and free things for those collecting Gems
A peer to peer messaging facility
Rating and reviews capabilites
All of these new capabilities are on top of:
Weekly prize giveaways plus special competitions from leading Brands
New games being regularly released
New Brands becoming part of radicalRealms with great offers and competitions
Chris Tew, EVP Asia Pac, said "We would like to thank all those who have participated and given us feedback in 2013, and we look forward to making 2014 a great year for consumers and Brands alike who are part of the Radical community."