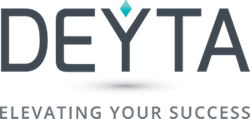 We are excited to have Allen on the team. He brings tremendous experience and enthusiasm to this new role and the executive team, and we are looking forward to the continued growth of the company with his help.- Kevin Porter, Deyta CEO
Louisville, KY (PRWEB) January 09, 2014
Deyta, LLC announced today that Allen Scales has joined their senior management team as Senior Vice President of Marketing. Scales is a seasoned healthcare IT executive, having served as an SVP for two healthcare IT companies (Emageon and Amicas) as well as having his own consulting firm. He has a broad range of experience, including: marketing, strategy, product marketing/management, business development, operations, quality management, systems engineering and research. He has his bachelors and masters degrees in electrical engineering from Georgia Tech.
At Emageon, Scales primarily served in marketing and product marketing/management roles. He was a significant contributor in efforts to grow Emageon from a start-up company to an IPO and subsequent merger with Amicus to become the largest independent medical image and information company in the United States.
As a consultant, Scales implemented one of the first medical imaging exchanges in the US which was based on the new standards being used to deploy the Nationwide Health Information Network. Additionally, he has done domestic and international consulting for acute care and post-acute care companies focused on analytics and care coordination.
"I am excited to be joining Deyta at this time. Deyta's High Definition Success Guidance Solution enables Home Health and Hospice organizations to solve problems and point our customers to results. I am looking forward to providing our customers with innovative solutions which allow them to drive their business to new heights," stated Scales.
"We are excited to have Allen on the team," said Kevin Porter, Deyta's CEO. "He brings tremendous experience and enthusiasm to this new role and the executive team, and we are looking forward to the continued growth of the company with his help."
About Deyta, LLC
Partnering with thousands of hospice, home health, human services, and other healthcare organizations, Deyta simplifies data driven management, enabling our clients to overcome the avalanche of information that clouds good judgment. With Deyta, healthcare leaders make proactive decisions that strengthen financial performance, improve operational efficiency, assure CMS compliance, and provide better patient care.