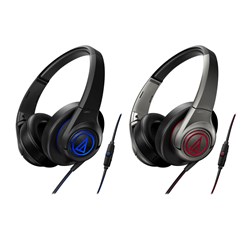 STOW, OH (PRWEB) January 07, 2014
At CES 2014, Audio-Technica is premiering its SonicFuel AX over-ear headphones, expanding on the SonicFuel line of headphones, which includes the new CKX in-ear models, as well as other on-ear and in-ear headphones. The AX over-ear headphones offer sleek, comfortable design, superior sound quality and three models with smartphone and iPhone® compatibility. Designed to fuel listeners' passion for enjoying their favorite music wherever they go, the new AX headphones include the ATH-AX5iS, ATH-AX3iS and ATH-AX1iS models with microphones, and ATH-AX5 and ATH-AX3 without microphones.
The three "iS" models have universal smartphone compatibility; they're fully compatible with today's latest smartphone devices from companies like Apple, Samsung, HTC and more. These models have a built-in microphone and a cord-mounted remote, enabling users to answer calls and control music/video playback on compatible devices. Simply press the "Audio-Technica" logo/button to activate the mic or scroll through music tracks. The volume control is also easily accessible. All the over-ear headphones feature swiveling earcups for a perfect over-ear fit, and the ATH-AX5iS/ATH-AX5 and ATH-AX3iS/ATH-AX3 models have a padded headband for additional comfort.
The top-of-the-line ATH-AX5iS and ATH-AX5 (SRP US$89.95 and US$84.95) incorporate large 40mm drivers in a durable aluminum and ABS housing for impactful, immersive sound. Both models are available in two stylish finishes, black with blue accents and gun metal with red accents, and come with a matching flat, tangle-free cord and a carrying pouch.
The ATH-AX3iS and ATH-AX3 (SRP US$59.95 and US$54.95) feature a 40mm driver for powerful, expansive sound quality. They come in black with white trim, blue with orange trim, and red with black trim, and they have a flat, tangle-free cord. The high-value ATH-AX1iS (SRP US$39.95) features a 36mm driver for clear, dynamic audio quality and comes in five eye-catching color combinations including black, white, red, blue with gray trim, and gray with green accents.
The new Audio-Technica SonicFuel AX over-ear headphones will be available in spring 2014.
Click here for ATH-AX5iS, ATH-AX5, ATH-AX3iS, ATH-AX3 and ATH-AX1iS product profiles and downloadable high-res photos.
Celebrating over 50 years of audio excellence, Audio-Technica is renowned worldwide for a broad range of consumer and professional audio products, including high-performance headphones, microphones, wireless systems, turntables and phono cartridges. Winner of numerous industry awards, Audio-Technica designs and manufactures products that set quality, durability and price/performance standards for major concert tours, broadcast and recording studios, corporate and government facilities, theaters, house-of-worship venues, and consumer applications. Learn more at http://www.audio-technica.com.
For more information on the complete range of Audio-Technica products, contact Karen Emerson or Crystal Griffith, Audio-Technica U.S., Inc., 1221 Commerce Drive, Stow, OH 44224. Tel: (330) 686-2600; Fax: (330) 688-3752.
For further information regarding product availability and pricing in the United Kingdom, please contact Harvey Roberts, hroberts(at)audio-technica(dot)co(dot)uk); in Germany, please contact Anja Groth, a.groth(at)audio-technica(dot)de; in the rest of Europe, please contact Evangéline Pirot, epirot(at)audio-technica-europe(dot)com.
iPhone is a trademark of Apple Inc., registered in the U.S. and other countries.
Audio-Technica is exhibiting at the Las Vegas Convention Center, South Hall Lower Level, Booth #20656 during CES 2014 in Las Vegas, NV.