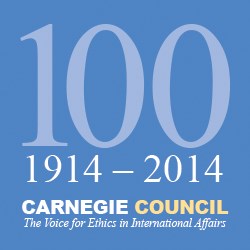 (PRWEB) January 08, 2014
Founded in 1914, Carnegie Council for Ethics in International Affairs presents the first public programs of its Centennial year. Don't miss these thought-provoking talks on a wide range of topics, from cybersecurity to the Middle East to fracking. Attend in person in New York City, or watch free live webcasts here: http://www.carnegiecouncil.org/calendar/live.
For more information on all these programs, including how to register, click here: http://www.carnegiecouncil.org/calendar/upcoming.html.
JAN 9, THURSDAY, 5:30PM Cybersecurity and Cyberwar: What Everyone Needs to Know
P.W. Singer, Brookings Institution
How does cyberspace actually work? What does the average citizen need to know?
THIS EVENT WILL NOT BE RECORDED
JAN 14, TUESDAY, 6:00PM Ethics Matter: Top Risks and Ethical Decisions 2014
Ian Bremmer, Eurasia Group
What are the biggest risks for 2014? Political risk guru Ian Bremmer discusses his celebrated annual list.
JAN 21, TUESDAY, 6:00PM The Future of American Warfighting: Lessons of the Contemporary Battlefield
General John R. Allen, USMC (Ret.); Ben FitzGerald, Center for a New American Security; Linda Robinson, RAND Corporation
This panel will explore the rapid evolution of transformative military technologies that are now appearing on the world's battlefields and are redefining warfighting strategies and tactics.
JAN 23, THURSDAY 8:00AM The Second Arab Awakening
Marwan Muasher, Carnegie Endowment for International Peace, former Jordanian Statesman
Why was the world so deeply misguided about Arab politics and society when the turmoil of the Arab Spring began? What can be done to encourage positive state building?
JAN 28, WEDNESDAY, 8:00AM The Frackers: The Outrageous Inside Story of the New Billionaire Wildcatters
Gregory Zuckerman, The Wall Street Journal
Who are the wildcatters leading the fracking revolution? Is this practice a blessing or a curse?
JAN 29, WEDNESDAY 5:30PM The Remotely Piloted Aircraft Known as Drones: A Proponent's Perspective
Maj. Gen. Charles J. Dunlap, Jr. (Ret.), Duke University
Professor Dunlap will debunk some common misperceptions about drones and explain their military utility.
Founded by Andrew Carnegie in 1914, Carnegie Council for Ethics in International Affairs is an educational, nonprofit, nonpartisan organization that produces lectures, publications, and multimedia materials on the ethical challenges of living in a globalized world. For more information, click here: http://www.carnegiecouncil.org/index.html.