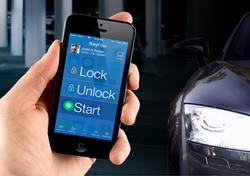 Toronto, Ontario (PRWEB) January 09, 2014
Keyfree Technologies launches keyfree™, the first digital car key, offering an innovative technology that simplifies the way in which access to all motor vehicles is granted. As keys are one of the most commonly misplaced and lost items, Keyfree makes all physical keys, key fobs and passive keyless gadgets things of the past. Keyfree has developed an easy to use application that works alongside a device that can be installed in minutes in any motor vehicle. By downloading the Keyfree app and installing the Keyfree device, users can seamlessly and digitally access and control the functions of their vehicles. Conveniently, Keyfree does not require the user's smartphone to be connected to the Internet nor does it require a data plan to interact with functions of the vehicle.
The Modern Key Management Solution
Keyfree Technologies Inc. is the industry leader in modern key management software. With worldwide access, Keyfree can allocate and even retrieve keys for thousands of vehicles through its virtual key management system. The accessibility and operability of multiple vehicles can all be flexibly authorized and controlled with a smartphone. Monitoring will now become easy with Keyfree's online log record, which keeps track of all assets. Keyfree's management solution is scalable, networkable and can easily integrate with existing infrastructure.
The Mobile App that is simple and secure to use
Conventional keys and keyless gadgets are bulky accessories in comparison to Keyfree's complete system, which now incorporates every attribute of a key and more into a smartphone. This new cross-platform technology simplifies connectivity and accessibility for individual consumers and all types of automotive businesses alike by providing an app that offers a number of distinct features:
•Automatic Lock/Unlock
Arm and disarm all doors by default when approaching or leaving the vehicle without any remote control action. Now the user can leave a smartphone in a pocket or purse and access their vehicle.
•Drive Away Keyless
Simply enter a vehicle with a smartphone, activate the ignition mechanism, which comprises of a push start button, and drive away truly key-free.
•On Point Notifications
Live status notification informs users of the geographical whereabouts of vehicles, as well as whether the vehicle was properly locked or unlocked.
•Digital Key Sharing
Make a vehicle available to anyone who is authorized by sending them a virtual key from anywhere in the world with optional restricted access.
•Immediately delete keys
Selectively freeze the access of keys to users through the mobile app or web interface. This eliminates the hassle that comes with losing a phone or keys and allows users to revoke keys from restricted personnel or others who only temporarily require access to the vehicle.
•History Log
Log into the account through Keyfree's website, and the administrative database allowing to monitor who is using the vehicle, at what time, and for how long. Unauthorized use can be terminated.
•Backup Entry
Use the fail-safe mechanism in case of emergency. Keyfree integrates a secondary means of vehicle accessibility through the use of auditory authentication.
Keyfree's patented system and application unlocks a new era in security technologies and opens new opportunities combining convenience, security, and accessibility into one great and simple to use tool – essentially, making life absolutely keyless.
Compatibility
The Keyfree device is compatible with smartphones that support Bluetooth 4.0, and the Keyfree app is currently available for iPhone® 4S, 5, 5c and 5s. The app will become available on Android™ and Microsoft™ platforms by June 2014. Keyfree is suitable for car rental agencies, vehicle share companies, taxis and buses, trucking/delivery operations, fleet vehicle services, construction vehicles, and private vehicles.
Please visit our website for more information: http://www.getkeyfree.com